Frank M Seever
Born: 2/7/1924, Indiana
Death: 12/18/2008, Moab, Utah

Frank M. Seever, 84, passed away December 18, 2008 at Allen Memorial Hospital in Moab.
Frank was born February 7, 1924 on a farm near Terre Haute, Indiana to Fred and Esther Walker Seever. While serving his country during WWII he married Claudine Mullinaux in Lexington, Kentucky in June of 1944.After his discharge Frank continued on with his education graduating from the University of Colorado. He enjoyed remodeling homes and they lived in Boulder and Grand Junction areas moving to Moab full time in 2005.
He is survived by his wife Claudine of Moab, 2 sisters, Mary Isbell, and Renna (Kenneth) Collie; 2 brothers Barton (Arduth) Seever, Byron Seever all who reside in California.
At Frank's request cremation has taken place.
Photo Gallery - Click a Picture For Enlarged Slide Show



Printable Page Add Picture Add Tribute/Condolence
PLEASE NOTE: Pictures and Tributes will be reviewed before being posted. We will post them ASAP, we appreciate your patience. PLEASE DON'T RESUBMIT.
Mary Mays
b: 3/5/1939
d: 9/22/2020
Service: Pending


OraLynn Means
b: 7/13/1936
d: 9/21/2020
Service: 09/28/2020, 11:00 am at The LDS Church on 400 North


Guy Thomas
b: 1/10/1950
d: 9/18/2020
Service: Private


Werner Wucherer
b: 1/20/1934
d: 9/10/2020
Service: Private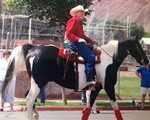 Rodney Dalton
b: 1/18/1934
d: 9/1/2020
Service: 09/08/2020, 10:00 am Grand Valley Cemetery

They Live On
Those we love remain with us
For love itself lives on;
Cherished memories never fade
Because one loved is gone.
Those we love can never be
More than a thought apart;
For as long as there's a memory,
They live on within our heart.