Ted L Shannon
Born: 12/24/1943, Price, Utah
Death: 12/28/2008, Grand Junction, Colorado
Service: 12/31/2008, 1:00 pm, Spanish Valley Mortuary
Interment: 12/31/2008, 2:00 pm, , Sunset Memorial Gardens
Ted L. Shannon, 65, passed away December 28, 2008 in Grand Junction, CO, of cancer.
Ted was born on December 24, 1943 in Price, Utah. His family moved to Moab in early 1950ís to follow the uranium boom. Harry and Enola Ellis raised him and following high school Ted was drafted and served in the US Army during the Vietnam War from 1965 to 1967. Following his time of service he met and married Jacquelin Kay Heieren on February 24, 1968 in Auburn, Washington. They lived in the Seattle area and later in Ferndale, WA. where he worked as a carpenter. Jacquelin passed away in 1977 of cancer, and in 1980 the family moved to Moab where Ted continued to work as a handyman and later started doing upholstery work.
Ted is survived by his 2 sons, Todd L. Shannon of Moab and Justin M Shannon of Portland, Oregon; 4 brothers, Tommy Shannon, Gary (Valerie)Grundvig, Dean (Vicki) Ellis, Virgil (Brenda) Ellis; a sister, Nancy (Lloyd) Thayn.
His wife, Jacquelin and his parents, Harry and Enola Ellen Ellis, and a sister Martha Ann Ellis preceded him in death.
A Funeral Service will be held Wednesday December 31, 2008 at 1:00 pm at the Spanish Valley Mortuary Chapel with a viewing starting at 11:00 am. Burial will follow at the Sunset Memorial Gardens Cemetery with military rites being accorded by the American Legion Post #54.
The family would request that in Lieu of flowers donations be made to the family to help with funeral expenses.
Photo Gallery - Click a Picture For Enlarged Slide Show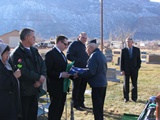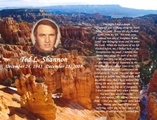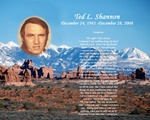 Printable Page Add Picture Add Tribute/Condolence Funeral Program
PLEASE NOTE: Pictures and Tributes will be reviewed before being posted. We will post them ASAP, we appreciate your patience. PLEASE DON'T RESUBMIT.
Thomas DeLaney Jr.
b: 8/17/1936
d: 4/17/2019
Service: Pending
Maureen McGann
b: 7/13/1954
d: 4/13/2019
Service: Pending
Clara Francis
b: 4/22/1927
d: 4/13/2019
Service: 04/22/2019, 11:00 am
Sunset Memorial Gardens
Carl Bierschied II
b: 12/13/1981
d: 4/13/2019
Service: 04/19/2019, 11:00 am
Spanish Valley Mortuary
Glee Parriott
b: 4/13/1947
d: 4/11/2019
Service: Pending
Joanne Stewart
b: 4/19/1951
d: 4/8/2019
Service: Private
Tom Lammert
b: 4/26/1957
d: 4/5/2019
Service: 04/12/2019, 1:00 pm
Sunset Memorial Gardens Cemetery
Charles Hassen
b: 7/9/1934
d: 3/26/2019
Service: 04/27/2019, 11:00 am
Sunset Memorial Gardens Cemetery
They Live On
Those we love remain with us
For love itself lives on;
Cherished memories never fade
Because one loved is gone.
Those we love can never be
More than a thought apart;
For as long as there's a memory,
They live on within our heart.