Roberta Kay Stewart
Born: 8/29/1946, Telluride, Colorado
Death: 9/6/2015, Moab, Utah
Viewing: 09/11/2015 6:00 to 8:00 pm, Spanish Valley Mortuary
Service: 09/12/2015, 11:00 am, Moab Baptist Church on Kane Creek

Loving mother, grandmother, & friend Roberta Kay Stewart aka (Grandma B) passed away in her home in Moab on September 6, 2015. Roberta was born on August 29, 1946 in Telluride, CO and grew up in Naturita the youngest of eight children. From the very start of her life Roberta touched the lives of all who knew her and made a special place in their hearts.
Roberta married the love of her life James Stewart in 1966 and not long after their only son Terry was born. She was enormously dedicated to her son and grandchildren in all aspects of their lives. There wasn't a moment that she would risk missing with them. People close to her called her a friend and a great companion for many adventures.
Grandma B was survived by Son Terry (Tiffany); brother Bernis (Lynda); Most Special Granddaughter KaLeigh (Tyler) & Most Handsome Great Grandson Graysen; Favorite Granddaughter Reina (Tyrel) & Most Beautiful Great Granddaughters Trinity & Harper, & Favorite/but Only Grandson Rory ; and Dog Pooper. She is further survived by many nieces, nephews, cousins, other relatives, adopted grandchildren (you know who you are) & many great friends. For those that we've missed we apologize, know that you were loved.
Roberta was preceded in death by her husband James Stewart, parents, Hazel & Clarence; sister's Juanita, Wanna Mae, Leota, Beverly; brothers Boyd and Bobbie; and several other wonderful souls. For those of you who knew Grandma B you know that she liked the simple things in life; mountain drives around the loop road, fried chicken, camping at Buckeye, salt & watermelon, tacos, Yahtzee, fighting over the rules of rummy, bottled perfume, ice cold beer & Pepsi, country songs, a freezer full of trout and rabbit, family pictures, keeping secrets, spending time with her grandchildren and all of their friends.
Grandma B took fashion cues from no one. Her signature every day look was an oversized pocket T-shirt designed by the fashion house Fruit of the Loom, her neon spandex capri pants, and her water shoes. She could be found sporting this ensemble to the classiest of events and man did she know how to have a good time! Her past time was spent competing with the Virginian Apartment neighbors with their courtyard solar lights, wind chimes & lawn décor; racing her scooter down the Millcreek pathway & giving rides to all of the grandkids. She cherished family get-togethers above all else and was always looking forward to the next time we could all be together for a family picture. You will always be our sunshine and we will always be yours. You will forever place a smile on our faces and in our hearts. Truly there are no words that can be shared that will show our gratitude for the time that you dedicated to us all and the love that you provided us. Grandma B may you rule the heavens the same way you ruled our world. Forever and Always, your favorites.
A Memorial Service will be held Saturday, September 12, 11am at Moab Baptist Church, 356 Kane Creek Blvd A viewing will take place Friday, September 11, 6-8pm at Spanish Valley Mortuary.
Printable Page Add Picture Add Tribute/Condolence
PLEASE NOTE: Pictures and Tributes will be reviewed before being posted. We will post them ASAP, we appreciate your patience. PLEASE DON'T RESUBMIT.
Mary Mays
b: 3/5/1939
d: 9/22/2020
Service: Pending


OraLynn Means
b: 7/13/1936
d: 9/21/2020
Service: 09/28/2020, 11:00 am at The LDS Church on 400 North


Guy Thomas
b: 1/10/1950
d: 9/18/2020
Service: Private


Werner Wucherer
b: 1/20/1934
d: 9/10/2020
Service: Private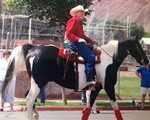 Rodney Dalton
b: 1/18/1934
d: 9/1/2020
Service: 09/08/2020, 10:00 am Grand Valley Cemetery

They Live On
Those we love remain with us
For love itself lives on;
Cherished memories never fade
Because one loved is gone.
Those we love can never be
More than a thought apart;
For as long as there's a memory,
They live on within our heart.