Bill O'Neal
Born: 11/22/1922, May, Idaho
Death: 1/18/2009, Moab, Utah
Service: 01/24/2009, 2:00 pm, St. Pius X Catholic Church

C. William (Bill) O'Neal, 86, was born in Idaho's Pahsimeroi Valley on November 22, 1922 to Edward and Nina O'Neal. He died Jan. 18, 2009 in Moab. He grew up on the family's ranch and married Helen Lish on Aug. 4, 1944 in Missoula, Mont.
Bill's life work, as a miner, started in Kodiak, Alaska. He worked in mines in Idaho, Nevada, Wyoming, and Utah throughout his mining career with his last job being back in Alaska, at Fairbanks, in 1996.
His enjoyment in life was his work and family. He especially enjoyed his grandchildren and great-grandchildren and was the best "Papa" and "Great Papa." One hobby, woodworking, benefited the whole family with beautiful memories from his own hands.
Surviving are his daughter, Carolyn (Tony) Lema, of Moab; son, Mike O'Neal of Moore, Idaho and son-in-law, Gary (Kathy) Baker of Grand Junction, Colo.; one sister, Marcella McCraigie, of Omak, Wash.; grandchildren, Angela Lema (Bob Hawks) of Grand Junction, Colo., Tony Lema (Kristie), Joe Lema (Crystal) of Moab, Mike (Cinda) Pena of Meridian, Idaho, Davey O'Neal of Reno, Nev., Bill Baker (Debbie), Bart (Tera) Baker, Amy (Justin) Tezak, Melissa (Stacey) Cook, all of Grand Junction, and 15 great-grandchildren.
He was preceded in death by his parents, daughter, Mary Baker, brothers, Larry and Ed, one sister, Elenore, and granddaughter, Lori O'Neal.
A memorial service is planned for Saturday, Jan. 24, at 2 p.m. at St. Pius X Catholic Church in Moab. Burial will take place at a later date in May, Idaho.
Photo Gallery - Click a Picture For Enlarged Slide Show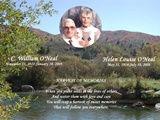 Printable Page Add Picture Add Tribute/Condolence Funeral Program
PLEASE NOTE: Pictures and Tributes will be reviewed before being posted. We will post them ASAP, we appreciate your patience. PLEASE DON'T RESUBMIT.
Dorothy Carpenter
b: 3/9/1921
d: 8/7/2018
Service: 08/17/2018, 10:00 am
Community Church
Shirley Bertwell
b: 5/26/1936
d: 8/6/2018
Service: 08/24/2018, 1:00 pm
Spanish Valley Mortuary
Nolan Morse
b: 12/6/1923
d: 7/29/2018
Service: 08/03/2018, 10:00 am
Grand Valley Cemetery
Nancy Ball
b: 6/16/1947
d: 7/29/2018
Service: Pending
Laura Senter
b: 11/8/1936
d: 7/26/2018
Service: 08/29/2018, 11:00 am
Community Church
Shirley Miller
b: 10/9/1925
d: 7/17/2018
Service: Private
Samuel Swindle
b: 2/21/1948
d: 4/3/2018
Service: 08/25/2018, 2:00 pm
Palmer Park Colorado Springs, CO
They Live On
Those we love remain with us
For love itself lives on;
Cherished memories never fade
Because one loved is gone.
Those we love can never be
More than a thought apart;
For as long as there's a memory,
They live on within our heart.