Albert C Howe
Born: 10/17/2015, Salt Lake City, Utah
Death: 10/17/2015, Moab, Utah
Service: Private

Albert C Howe (Big Al) was 59 years old . Lived in Moab Ut. Albert passed away October 17th 2015 in Moab. Albert was born 11/16/1956 in Salt lake City, Utah to Bernice Powell Howe and Ray G Howe. Albert was the 3rd of 4 Brothers. Big Al came to Moab in 1984 taking residence in the Moab red rock caves..always being the constant adventurer. He lived up in the caves till he came down into Moab proper, where he moved into a "Shafer" house, right across from the largest Cotton Wood tree in Moab. He lived in this house for more than 30 years, till is passing. Al loved the majesty of the red rock canyon, rivers and mountains. In the mid 1980's through the mid 1990's Al was a top grade river runner and guide for Jim Sartens North American River Adventures.
My Uncle Al was an artist of all five senses. Making Signs for the Grand County Cemeteries. Al cleaned and professionally prepared many native animal skulls that he found on the desert floor. My Uncle Al (Big Al) was kind, generous, would help anyone who needed help, give you the shirt off his back; always willing to help anyone who didn't have the physical strength to do for themselves. He was a true adventurer, guide, river man, four-wheeler, woodsman, mountain man, survivalist, artist and above all, a great Uncle, Brother, Son and friend. My Uncle Al was such an amazing Man He will never be forgotten.
Special Thank you to Gary, Russ and Auggie you guys are Blessings.
At Alís request cremation has taken place and a private service will be held at a later date.
Love you Uncle Al ..Moose and Randy!
Printable Page Add Picture Add Tribute/Condolence
PLEASE NOTE: Pictures and Tributes will be reviewed before being posted. We will post them ASAP, we appreciate your patience. PLEASE DON'T RESUBMIT.
Mary Mays
b: 3/5/1939
d: 9/22/2020
Service: Pending


OraLynn Means
b: 7/13/1936
d: 9/21/2020
Service: 09/28/2020, 11:00 am at The LDS Church on 400 North


Guy Thomas
b: 1/10/1950
d: 9/18/2020
Service: Private


Werner Wucherer
b: 1/20/1934
d: 9/10/2020
Service: Private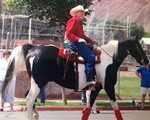 Rodney Dalton
b: 1/18/1934
d: 9/1/2020
Service: 09/08/2020, 10:00 am Grand Valley Cemetery

They Live On
Those we love remain with us
For love itself lives on;
Cherished memories never fade
Because one loved is gone.
Those we love can never be
More than a thought apart;
For as long as there's a memory,
They live on within our heart.