James Robert Thuesen
Born: 5/31/1943, San Francisco
Death: 10/29/2015, Moab, Utah
Service: 11/05/2015, 4:00, Pending

Jim finally lost his valiant battle with cancer early in the morning on October 29. He was at home and at peace. Anyone fortunate enough to be acquainted with Jim knows how optimistic, considerate and fun he was. His loving and thoughtful nature made him an amazingly wonderful husband to his wife, JoDee, a terrific father, and nice to everyone. His greatest desire was to be a good person; he certainly achieved that goal.
Jim was a proud native of San Francisco but he and JoDee retired to Moab over 18 years ago. They traveled often and to many different places, but they always wanted to return to Moab. Jim's contributions to the community included organizing the Light Parade for many years, being the DJ on the Red Rock 'n' Blues show on KZMU, coordinating the July Fourth parade, and helping with the Folk Festival from the very first year. He was happy to help anyone he could.
Jim was a surfer before the Beach Boys songs or wetsuits. He enjoyed boating, water skiing and camping (especially with some creature comforts). He liked driving in general and 4-wheeling for special fun. A versatile man, Jim also liked to garden, can his crops and cook family meals. He enjoyed "projects", especially outdoors. After JoDee showed him that he could expand his horizons, he found that travel to new places was fun and interesting. He was willing to try new adventures, like skydiving a few years ago—he loved those locals' discounts. And Jim loved a party, any type of party.
In Moab, Jim is survived by his wife JoDee. In California, Jim is survived by his children Brian Thuesen, Angela Montgomery and Matt Thuesen, and granddaughter Shelby Montgomery, his three sisters Mary Lourdes Thuesen, Andi Ibarra, and Cele Gutierrez. There are many loving nieces and nephews, and great-nieces and great-nephews who will definitely miss their Uncle Jim.
There will be an informal drop-in Celebration for Jim at The Rio starting at 4:00 on Thursday, November 5. Please join us if possible.
Any donations should be sent to the American Cancer Society.
Printable Page Add Picture Add Tribute/Condolence
PLEASE NOTE: Pictures and Tributes will be reviewed before being posted. We will post them ASAP, we appreciate your patience. PLEASE DON'T RESUBMIT.
Mary Mays
b: 3/5/1939
d: 9/22/2020
Service: Pending


OraLynn Means
b: 7/13/1936
d: 9/21/2020
Service: 09/28/2020, 11:00 am at The LDS Church on 400 North


Guy Thomas
b: 1/10/1950
d: 9/18/2020
Service: Private


Werner Wucherer
b: 1/20/1934
d: 9/10/2020
Service: Private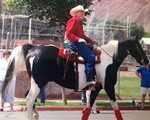 Rodney Dalton
b: 1/18/1934
d: 9/1/2020
Service: 09/08/2020, 10:00 am Grand Valley Cemetery

They Live On
Those we love remain with us
For love itself lives on;
Cherished memories never fade
Because one loved is gone.
Those we love can never be
More than a thought apart;
For as long as there's a memory,
They live on within our heart.