Hilton # Walker
Born: 3/12/1929, Crowell, Texas
Death: 11/6/2015, Moab, Utah
Service: 11/12/2015, 11:00 am, Church Of Christ
Interment: 11/12/2015, 12:30 pm, 11/12/2015, 12:30 pm

After a brief battle with pneumonia, on Nov 6th the angels led Hilton Walker through the gate to be with his beloved Mary Anne. Born March 12, 1929 in Crowell, Texas Hilton grew up in a number of small towns across West Texas. The 2nd oldest of 4 sons, Hilton never got a chance to finish High School (as was common during the Great Depression), but instead had to go to work in the cotton and onion fields to help support his family, including his 4 sisters Dena, Georgia, Ima and Nellie. He later learned carpentry, and became quite skilled at it, working as a carpenter across the Western US. Though he never was taught to read music, Hilton taught himself to play fiddle and became quite accomplished. He played country music with his 3 brothers Fred, Connie and Tevis, along with their friends Kenneth Seal and Bill Jackson in a band called The Texas Drifters. It was at one of their performances in Ruidoso, New Mexico that Hilton met the love of his life, Mary Anne Hiatt. They were married in Ruidoso on October 1st, 1956 and remained happily married until Mary Anne passed away in 2010.
Hilton, Mary Anne, and their 4 children moved to Moab in 1972, and Hilton worked as a heavy equipment operator at the Texasgulf, Inc. Potash mine (now Intrepid Potash). He was a member of the Moab Church of Christ. Hilton enjoyed sightseeing in the area, and he and Mary Anne celebrated their anniversary at Oowah Lake in the LaSal Mountains each year so they could enjoy the golden aspens of Autumn.
He was preceded in death by his parents (Fred, Sr. and Annie), his brothers Fred, Jr. and Connie, his oldest sister Dena, his beloved wife Mary Anne and the oldest of his two sons (Robert).
Hilton is survived by his son Joe, and his daughters Mary and Martha, and his 2 granddaughters, Stephanie and Deanna all living Moab.
Funeral Services will be held Thursday November 12, 2015 at 11:00 am at the Moab Church of Christ. Interment will follow at the Sunset Memorial Gardens Cemetery.
Printable Page Add Picture Add Tribute/Condolence
PLEASE NOTE: Pictures and Tributes will be reviewed before being posted. We will post them ASAP, we appreciate your patience. PLEASE DON'T RESUBMIT.
Mary Mays
b: 3/5/1939
d: 9/22/2020
Service: Pending


OraLynn Means
b: 7/13/1936
d: 9/21/2020
Service: 09/28/2020, 11:00 am at The LDS Church on 400 North


Guy Thomas
b: 1/10/1950
d: 9/18/2020
Service: Private


Werner Wucherer
b: 1/20/1934
d: 9/10/2020
Service: Private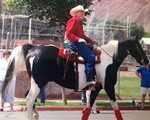 Rodney Dalton
b: 1/18/1934
d: 9/1/2020
Service: 09/08/2020, 10:00 am Grand Valley Cemetery

They Live On
Those we love remain with us
For love itself lives on;
Cherished memories never fade
Because one loved is gone.
Those we love can never be
More than a thought apart;
For as long as there's a memory,
They live on within our heart.