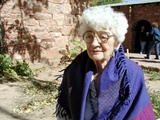 Joan E Liebler
Born: 2/2/1915, Sheffield, England
Death: 1/24/2009, Moab, Utah
Viewing: 02/11/2009, 7:00 pm
Service: 02/12/2009, 10:00 am, St. Pius X Catholic Church
Interment: 2/12/2009, Sunset Memorial Gardens Cemetery

Joan Warburton Eskell Liebler passed away on January 24, 2009 at the Allen Memorial Hospital in Moab.
Joan was born February 2, 1915 in Sheffield England to Charles and Ingrid Muller Warburton during WWI. Her father was an actor/ director at the Old Vic Theater and after the war accepted a job at Copley Theater in Boston as an actor / director. Joan's grandmother Eliza Dillion Warburton moved back to England so she took Joan with her, where she was lived until she completed her high school education.
In 1931 Joan returned to America to be with her parents in Long Island, NY where her dad was director of NBC Radio. Joan later moved to New York City and worked as a secretary and a radio actress. In 1939 she took a job as secretary working for the British Consulate General in New York, and later volunteered to work for the British Women's Auxiliary Air Force which moved her back to England in 1943.
After the war she moved back to New York where things had changed and most of her contacts in the radio business had left for Hollywood, CA. During this time Joan met and married Dr. Bertrem Eskell, an English surgeon. Dr. Eskell died six years later. A few years later she met an old friend Father Liebler who talked to her about St Christopher's Mission, working with the Navajo Nation in Bluff, Utah. In 1962 Joan decided to go to work with Father Liebler as one of the staff at the St. Christopher's Mission In 1964 Father Liebler and his staff which Joan was part of moved to the Hat Rock Mission in Monument Valley which was an outreach of St. Christopher's Mission. In 1977 Father Liebler's wife passed away, and in 1978 Joan married him at the mission. Father Liebler died in 1982 and in 1983 Joan decided to retire, join the Roman Catholic Church and in Nov. of 1983 move to Moab. She was an active member of St. Pius X Catholic Church.
Joan had a love for reading and writing.
She is survived by her sister Helen Peragine; a brother Christopher Raymond Burton; a niece Sandra Peragine; her stepchildren; Robert F. Liebler of Miami, FL, George Liebler of Fort Lauderdale, FL and John Liebler of Vero Beach, FL; 24 grandchildren.
She was preceded in death by her husbands Dr. Eskell, and Father Liebler.
A Funeral Mass will be held at 10:00 on February 12, 2009 and a Rosary Service will be held from 7:00 on February 11, 2009. Both Service will be held at St. Pius X Catholic Church. Interment will be at the Sunset Memorial Gardens Cemetery. In lieu of flowers donations can be sent to the Canon H. Baxter Liebler Foundation....c/o Spanish Valley Mortuary, 386 North 100 West Moab, UT 84532
Photo Gallery - Click a Picture For Enlarged Slide Show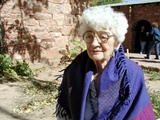 Printable Page Add Picture Add Tribute/Condolence Funeral Program
PLEASE NOTE: Pictures and Tributes will be reviewed before being posted. We will post them ASAP, we appreciate your patience. PLEASE DON'T RESUBMIT.