Iris Elaine Skowbo

Born: 4/28/1939, Stevenson, Montana
Death: 12/22/2015, Moab, Utah
Service: Private


Iris Elaine DeGrave Skowbo lost her long battle with cancer on December 22, 2015.

Iris was born on April 28, 1939 in Stephenson Michigan. She attended Cedar Lakes Academy where she met and later married Stanley Skowbo, her husband of 55 years. She also attended Andrews University where her favorite courses were in art. As an Army wife, Iris spent time in Washington D.C. enjoying the sites. The young family moved west to Colorado and ultimately settled in Moab. Iris loved the long vistas so different from the thick Michigan woods.

From teaching children at church, to baking beautiful wedding and birthday cakes, to arranging flowers, to sewing wardrobes and quilts, Iris's creativity shone. She had a nearly unsurpassed green thumb and always had produce to share. She was very interested in people and their stories and was happy at other's good fortune. Her generous and giving heart led her into Home Health and Hospice care in her later years. She will be greatly missed.

Iris was preceded in death by her daughter Wilmella Conley and by her son-in-law David Conley. She is survived by granddaughter Laura Conley, son Gary (Monica) Skowbo, granddaughter Cari Buckowich, son Jim (Sara) Skowbo, granddaughters Natalie and Chloe, brother Larry DeGrave and family, and sister-in-law Amy Fraizer and family.

Cremation has taken place. Memorial services to be held at a later date.

Printable Page Add Picture Add Tribute/Condolence

PLEASE NOTE: Pictures and Tributes will be reviewed before being posted. We will post them ASAP, we appreciate your patience. PLEASE DON'T RESUBMIT.
Mary Mays
b: 3/5/1939
d: 9/22/2020
Service: Pending


OraLynn Means
b: 7/13/1936
d: 9/21/2020
Service: 09/28/2020, 11:00 am at The LDS Church on 400 North


Guy Thomas
b: 1/10/1950
d: 9/18/2020
Service: Private


Werner Wucherer
b: 1/20/1934
d: 9/10/2020
Service: Private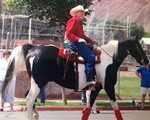 Rodney Dalton
b: 1/18/1934
d: 9/1/2020
Service: 09/08/2020, 10:00 am Grand Valley Cemetery

They Live On
Those we love remain with us
For love itself lives on;
Cherished memories never fade
Because one loved is gone.
Those we love can never be
More than a thought apart;
For as long as there's a memory,
They live on within our heart.