Glenn Bartyn Victor

Born: 5/21/1928, Ogden, Utah
Death: 1/5/2016, Aurora, Colorado
Viewing: 01/14/2016 6:00 to 8:00 pm, Spanish Valley Mortuary
Service: 01/15/2016, 11:00 am, Moab LDS Stake Center
Interment: 01/15/2016, 12:30 pm, Sunset Memorial Gardens Cemetery


Glenn Victor passed away January 5, 2016. Glenn was born May 21, 1928, in Ogden, Utah, to Omar Octavian Victor and Mary (Bartyn) Victor. He was the oldest of their three children. He graduated from East High School where he met the love of his life, Dorothy Mae Busby. They were married in January, 1948, in Salt Lake City. They had three children, Vicki Leigh, Lauri Ann and Glenn Bartyn II (Bart). The trucking industry brought Glenn and Dorothy to Moab in 1953, and he made the Moab Valley his home for the next 55 years. Unfortunately, Glenn lost Dorothy to cancer in 1967, and he focused his efforts on his work and supporting his young children. Throughout the years, Glenn owned a variety of businesses. He was one of the first golf professionals at the Moab Golf Club, owned Moab Rentals which rented everything from Polaris to Pontiac, movie theaters and restaurants. He was the second Exalted Ruler at the Moab Elks Lodge, BPOE 2021. As a golf professional at the Moab Golf Club, Glenn started the junior golf program and would often tell stories of picking kids up at school in the bus and driving them out to the golf course to pass on his life-long love of the game. As a restaurant owner/operator, Glenn ran the Grand Ice Cream Parlor (now the Moab Diner), the Mi Vida Restaurant (now Sunset Grill) and the Grand Old Ranch House (now Desert Bistro).

Glenn retired from the restaurant business in 1999 and enjoyed many years of golf in Moab. He moved to Glenwood Springs in 2007 to be closer to family. No longer golfing as much, Glenn focused on his other passion, classic cars, and became a member of the Glenwood Springs Elks Lodge, BPOE 2286. He enjoyed cruise nights in his red 1964 Oldsmobile Starfire and made many friends that shared his passion.

Glenn was preceded in death by his wife, Dorothy, his parents and his brother, Owen. Glenn is survived by his three children, Vicki (Tom) Oldmen of St George, Utah, Lauri Victor of Moab, and Bart (Jennifer) Victor of Glenwood Springs, his sister, Barbara (Briant) Stringham of Murray, Utah, grandchildren Sommar Johnson of Moab, Karissa Johnson of Rifle, Colorado, Christopher TJ Victor, three great grandchildren and former spouses Joyce Ossana Victor and Katie Curtis Victor.

Viewing will be at 6:00 pm at Spanish Valley Mortuary on Thursday, January 14, and funeral services will be held at the Church of Jesus Christ of Latter Day Saints, 710 Locust Street, Moab, on Friday, January 15, at 11:00 am. An additional celebration of life will be held in the spring in Glenwood Springs for friends who are not able to travel to Moab. In lieu of flowers, please make donations to the American Heart Association or the charity of your choice.

Printable Page Add Picture Add Tribute/Condolence

PLEASE NOTE: Pictures and Tributes will be reviewed before being posted. We will post them ASAP, we appreciate your patience. PLEASE DON'T RESUBMIT.
Mary Mays
b: 3/5/1939
d: 9/22/2020
Service: Pending


OraLynn Means
b: 7/13/1936
d: 9/21/2020
Service: 09/28/2020, 11:00 am at The LDS Church on 400 North


Guy Thomas
b: 1/10/1950
d: 9/18/2020
Service: Private


Werner Wucherer
b: 1/20/1934
d: 9/10/2020
Service: Private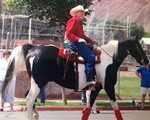 Rodney Dalton
b: 1/18/1934
d: 9/1/2020
Service: 09/08/2020, 10:00 am Grand Valley Cemetery

They Live On
Those we love remain with us
For love itself lives on;
Cherished memories never fade
Because one loved is gone.
Those we love can never be
More than a thought apart;
For as long as there's a memory,
They live on within our heart.