Gilbert LeVoy Randall

Born: 3/8/1937, Francis, Utah
Death: 1/18/2016, Moab, Utah
Service: 01/23/2016. 11:00 am, Spanish Valley Mortuary
Interment: 01/23/2016, 12:30 pm, 01/23/2016, 12:30 pm


At the age of 78 Gilbert Randall (Gib) passed away on January 18, 2016 at 1:10 pm. He was born March 8, 1937 in Francis Utah to Loraine and Elaine Randall. He married Lydia Dietrich on July 31, 1970. Gib worked in the oil field for more than 25 years which took him to variety of different places to include Colorado, Utah, Norway and several other locations overseas. Gib also worked construction for more than 10 years and a was security guard for more than 5 years. Gib finally retired in 2012, at which time he became a full-time Grandfather, where he enjoyed 3 beautiful years with his youngest grandson Raven who he loved dearly. Gib loved to travel with his wife, children and grandchildren to several different places in their motor homes and was an avid bowler and hunter for many years. He loved spending time with his family and created many lastings memories with his 24 grandchildren and 27 great grand children.

He is survived by his wife Lydia Randall his three brothers and one sister in-law, Milo (Colleen) Randall, Ellis (Erma) Randall, Donald (Donna) Randall, Vauna Randall and seven children Lee (RaNae) Randall, Jim (Sharolynn) Norris, Donald Randall, Tina ((Kevin) Irvine, Sue Randall, Ronald Randall, Stacy (Charity) Randall. He is also survived by many nieces and nephews.

He was proceeded in death by his parents and two brothers, Royce Randall, Robert Randall and one sister Vernita (Cecil) Dull.

A viewing will be held at Spanish Valley Mortuary on Friday January 22 at 6pm and funeral services will be held at Spanish Valley Mortuary on Saturday January 23 at 11 am. Interment following at Sunset Cemetery.

Printable Page Add Picture Add Tribute/Condolence

PLEASE NOTE: Pictures and Tributes will be reviewed before being posted. We will post them ASAP, we appreciate your patience. PLEASE DON'T RESUBMIT.
Mary Mays
b: 3/5/1939
d: 9/22/2020
Service: Pending


OraLynn Means
b: 7/13/1936
d: 9/21/2020
Service: 09/28/2020, 11:00 am at The LDS Church on 400 North


Guy Thomas
b: 1/10/1950
d: 9/18/2020
Service: Private


Werner Wucherer
b: 1/20/1934
d: 9/10/2020
Service: Private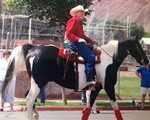 Rodney Dalton
b: 1/18/1934
d: 9/1/2020
Service: 09/08/2020, 10:00 am Grand Valley Cemetery

They Live On
Those we love remain with us
For love itself lives on;
Cherished memories never fade
Because one loved is gone.
Those we love can never be
More than a thought apart;
For as long as there's a memory,
They live on within our heart.