Michael Dennis O'Reilly

Born: 7/22/1959, Torrence, California
Death: 2/16/2016, Moab, Utah
Service: 2/26/2016, 3:00 pm, SunsetMemorial Gardens Cemetery
Interment: 02/26/2016, 3:30pm, Sunset Memorial Gardens Cemetery


Grave side services will be held at the Sunset Memorial Cemetery in Spanish Valley on February 26, 2016 at 3 p.m. immediately after the service you are welcome to join the family at St. Frances Episcopal Church in the parish hall.

On Tuesday February 16th we lost a beloved husband, father, grandfather, brother, cousin, and nephew. He died un-expectedly and suddenly from cardiac arrest. He was born in Torrance, CA to Neil Frances O Reilly and Alice Christine Hansen O'Reilly on 7/22/1959. He moved to Moab, Utah with his family in 1979.

He met his beloved wife Marilyn Shelton on Jan 3, 1980. They were married on June 28, 1980 to begin their beautiful life together. They became parents to three boys: Dennis Neil on 1981, Michael David 1982, and Patrick William 1987.

He worked a variety of jobs from Uranium mining to coal mining, manager of gas station, and for the last 27+ years he has worked as a house painter.

Mike enjoyed begin outdoors camping, 4-wheeling, hunting, and enjoying time with his family. He found joy in being the best Grandpa to Preston Neil and Bailey Ray O'Reilly.

He is survived by Marilyn O Reilly, wife; Dennis and Michael O Reilly, sons; Katherine O Reilly daughter in law, Preston and Bailey O'Reilly Grandchildren. Richard and Coleen O Reilly, brother and sister-in-law; Fredrick Hunter, brother; Douglas and Janet Hunter, brother and sister-in-law.

He is proceeded in death by Neil Frances, father; Alice Christine Morriissette, mother; Wesley Hunter, step-father; Patrick William, son; Brian O Reilly, brother; Mark Hunter, brother.

The O Reilly Family would like to express great thanks to all of those involved in Michael Dennis O Reilly's life saving efforts. God Bless!

Marilyn O Reilly 290 Williams Way #45, Moab, Utah 84532

Tributes:

Marilyn, we just want you to know that we are sorry about Mick and send our very best to you. Love,
- Inalyn & Bill MeadorI won't forget the crazy times with Mike at Crescent. So sorry for your loss.
- Keven LangeMarilyn, so sorry to hear about Mike. What a character, Marv has a lot of good memories of their time working together.You and you family will be in our thoughts.If we can do anything to help you please let us know.

- Marv and Bobbie DayI worked with Mike as a physical therapy aide when he hurt his arm. He was a lot of fun and he made me laugh. He was taken too soon.
- Paula DaltonI worked with Mike on many jobs over the last twenty years, from the Colorado river bridges to houses he was painting at. I would like to say how sorry I am for your loss. Mike was a pleasure to work with, a hard worker, and a genuine good man. I will miss him, and seeing him in his old ford truck. May God bless his family.

- Ryan Talbot

Printable Page Add Picture Add Tribute/Condolence

PLEASE NOTE: Pictures and Tributes will be reviewed before being posted. We will post them ASAP, we appreciate your patience. PLEASE DON'T RESUBMIT.

Ronald Robertson
b: 8/24/1934
d: 9/27/2020
Service: 10/02/2020, 11:00 am Moab LDS Stake Center on Locust Lane

Mary Mays
b: 3/5/1939
d: 9/22/2020
Service: Pending


OraLynn Means
b: 7/13/1936
d: 9/21/2020
Service: 09/28/2020, 11:00 am at The LDS Church on 400 North


Guy Thomas
b: 1/10/1950
d: 9/18/2020
Service: Private


Werner Wucherer
b: 1/20/1934
d: 9/10/2020
Service: Private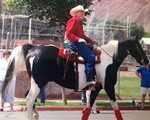 Rodney Dalton
b: 1/18/1934
d: 9/1/2020
Service: 09/08/2020, 10:00 am Grand Valley Cemetery

They Live On
Those we love remain with us
For love itself lives on;
Cherished memories never fade
Because one loved is gone.
Those we love can never be
More than a thought apart;
For as long as there's a memory,
They live on within our heart.