Danika Marie Maestas
Born: 2/11/2004, Cortez, Colorado
Death: 2/27/2009, Moab, Utah
Service: 03/07/2009, 10:00 am, St. Mary's Catholic Church

Danika Marie Maestas, 5, passed away on Friday February 27, 2009 in an automobile accident in Moab, Utah.
She was born February 11, 2004 in Cortez, Colorado to Anthony James Maestas and Marina Cotton. She loved being with her family and especially enjoyed camping and fishing and talking on the cell phone.
Danika is survived by her parents James and Vicki Maestas; her siblings Richard Yake, Kacee Cordova, Anthony Maestas Nathaniel Lobato Joseph Maestas, Josh Lobato, Mahala Cotton, Dimitri Torres, Nathasha Torres; grandparents Evelyn Maestas, Aaron Benavidez, Robert Chavez, Benny & Sondra Cordova, Tim Jackson, Donna Jackson; Great-grandparents Tony Gallegos, Fred Marez, Margaret Hover and many aunts, uncles, and cousins.
She was preceded in death by her mother Marina Cotton; Grandmother Mary Louise Marez; Great-grandparents Sally Gallegos, and Glen Hover.
Funeral Services will be held Saturday March 7, 2009 at 10:00 am at the St. Mary's Catholic Church in Cortez, Colorado.
In Lieu of flowers donations can be made to the Danika Maestas Memorial Fund at the Community Bank in Cortez.
Photo Gallery - Click a Picture For Enlarged Slide Show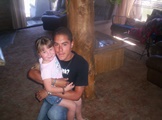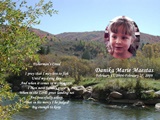 Printable Page Add Picture Add Tribute/Condolence Funeral Program
PLEASE NOTE: Pictures and Tributes will be reviewed before being posted. We will post them ASAP, we appreciate your patience. PLEASE DON'T RESUBMIT.
Karen Egeland
b: 1/4/1939
d: 10/12/2019
Service: Private
Shasta Lisonbee
b: 9/13/1991
d: 10/9/2019
Service: 10/16/2019, 11:00 am
LDS 400 North Chapel
Lavada Casey
b: 11/3/1912
d: 10/3/2019
Service: 10/14/2019, 11:00 am
Community Church
Adam Bires
b: 9/12/1981
d: 9/23/2019
Service: 10/22/2019, 5:30 pm
71 South 400 East
Phyllis Book
b: 1/15/1930
d: 9/22/2019
Service: Pending
Harriet Jo Rogers
b: 1/6/1934
d: 9/18/2019
Service: Private
Donald Knowles Jr
b: 2/27/1931
d: 8/22/2019
Service: 10/26/2019, 11:00 am
Sunset Memorial Gardens Cemetery
They Live On
Those we love remain with us
For love itself lives on;
Cherished memories never fade
Because one loved is gone.
Those we love can never be
More than a thought apart;
For as long as there's a memory,
They live on within our heart.