Douglas Dare Tangreen

Born: 11/22/1930, Moab, Utah
Death: 4/22/2016, Moab, Utah
Service: Private


Our beloved Dad Doug Tangreen passed away peacefully in his home, in early morning of April 22, 2016.

Dad was born to Clerence A and Ruby Ray Tangreen November 22, 1930. Dad was the third of seven children.

Doug's talents were many, mechanic, truck driver, welder, uranium miner, foreman at TGI and farmer. Through his custom hay harvesting he gathered many good friends. Several of these friends became extended family and looked after him as only family cam. He was always willing to do anything for friends and family.

Doug is survived by his three children Loraine (Ferris) Fullmer of Moab, Candi Lorett (Preston) Niesen of Lakewood, CO, Sam (Cindy Bolton) Tangreen of Moab; five grandchildren Sam (Shawna), Adam (Becky), Ben Niesen, all of Colorado, John (Nicole) of Moab, and David (Ashley) of Palisade, CO; 9 great-grandchildren; 3 siblings, Evalue Wright, Kay Tangreen, and Wade Tangreen.

Rest in Peace, Dad we all love and miss you.

At Doug's request cremation has taken place and a Memorial Service will be held at a later date.

Printable Page Add Picture Add Tribute/Condolence

PLEASE NOTE: Pictures and Tributes will be reviewed before being posted. We will post them ASAP, we appreciate your patience. PLEASE DON'T RESUBMIT.

Ronald Robertson
b: 8/24/1934
d: 9/27/2020
Service: 10/02/2020, 11:00 am Moab LDS Stake Center on Locust Lane

Mary Mays
b: 3/5/1939
d: 9/22/2020
Service: Pending


OraLynn Means
b: 7/13/1936
d: 9/21/2020
Service: 09/28/2020, 11:00 am at The LDS Church on 400 North


Guy Thomas
b: 1/10/1950
d: 9/18/2020
Service: Private


Werner Wucherer
b: 1/20/1934
d: 9/10/2020
Service: Private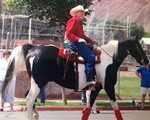 Rodney Dalton
b: 1/18/1934
d: 9/1/2020
Service: 09/08/2020, 10:00 am Grand Valley Cemetery

They Live On
Those we love remain with us
For love itself lives on;
Cherished memories never fade
Because one loved is gone.
Those we love can never be
More than a thought apart;
For as long as there's a memory,
They live on within our heart.