Miguel A Valdes

Born: 1/7/1957, Mexico City, Mexico
Death: 5/2/2016, Grand Junction, Colorado
Service: 05/09/2016, 4:00 pm, Grand Center


Miguel Angel (Mick) Valdes, age 59, of Moab, passed away on May 2, 2016 unexpectedly after a heart attack.

He was born in Mexico on January 7, 1957 to Luis and Carmen Valdes.

Miguel married the love of his life, Carrie Valdes (nee Hackford) in 1993 and together they had two children, Jessica Carmen (20) and Michelle Marie (16). He also cared for Sarah Stalpes (20) as if she were his own daughter and was a father figure to many others including Rylan Ruggeri and the Grand County High School Boys Soccer Team. Carrie and Miguel moved to Moab in 2000 and opened "Miguel's Baja Grill" on Main Street. Miguel loved the outdoors and was an avid biker. He loved travel and adventure. He never met a stranger that wasn't quickly a friend. He was the life of any party and loved all types of music. Miguel enjoyed hosting gatherings and cooking the most divine meals for friends and family. Miguel loved his family above all including his cats – Los Peludos. He was a doting father to his daughters and enjoyed watching them play soccer, volleyball, and softball. He spent many years as a proud stay-at-home dad, prioritizing his girls over all else. He was always proud of their many accomplishments. He was preceded in death by his parents and numerous siblings.

Miguel was an organ and tissue donor and his family takes solace in knowing he is helping others.

Per his wishes Miguel was cremated and a Celebration of his Life will be held on Monday, May 9, 2016 at 4pm at the Grand Center in Moab. Please honor him by wearing bright colors and sharing a memory.

Printable Page Add Picture Add Tribute/Condolence

PLEASE NOTE: Pictures and Tributes will be reviewed before being posted. We will post them ASAP, we appreciate your patience. PLEASE DON'T RESUBMIT.
Mary Mays
b: 3/5/1939
d: 9/22/2020
Service: Pending


OraLynn Means
b: 7/13/1936
d: 9/21/2020
Service: 09/28/2020, 11:00 am at The LDS Church on 400 North


Guy Thomas
b: 1/10/1950
d: 9/18/2020
Service: Private


Werner Wucherer
b: 1/20/1934
d: 9/10/2020
Service: Private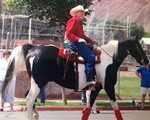 Rodney Dalton
b: 1/18/1934
d: 9/1/2020
Service: 09/08/2020, 10:00 am Grand Valley Cemetery

They Live On
Those we love remain with us
For love itself lives on;
Cherished memories never fade
Because one loved is gone.
Those we love can never be
More than a thought apart;
For as long as there's a memory,
They live on within our heart.