Wilma Virginia Lawrence
Born: 4/21/1926, Silver Cliff, Colorado
Death: 3/21/2009, Grand Junction, Colorado
Service: 03/28/2009, 11:00 am, Moab Baptist Church
Interment: 03/28/2009 12:00 pm, , Sunset Memorial Gardens Cemetery
Wilma Virginia Lawrence, 82, passed away March 21, 2009 at St. Mary's Hospital in Grand Junction of complication from a stroke.
Wilma was born April 21, 1926 to Jess and Alva McKinney Huffman at Silver Cliff, Colorado. Her family moved to Hatch, New Mexico where she grew up and graduated from Hatch High School. After high school she married Grover Lawrence in Hatch, New Mexico on October 16,1948. They moved wherever he was stationed in the military. After his discharge they moved to Eckert, Colorado and then to LaSal, Utah. In 1962 they moved to Moab where they stayed.
Wilma loved the outdoors, hiking, and rock collecting, but most important thing to her was her family.
She is survived by a son Albion of Moab; a granddaughter Vicki Roads of Texas; great-grand children Alyssa Roads of Moab, Jeremy Bailey of Mancos, CO and numerous nephew and nieces.
She was preceded in death by her husband; a daughter Andrea Lawrence Roads; a grandson Donny Roads and a granddaughter Penny Lawrence.
Funeral Services will be Saturday March 28, 2009 at 11:00 am at the Moab Baptist Church 356 W. Kane Creek Blvd. A viewing will be held Friday March 27, 2009 from 6 to 8 at Spanish Valley Mortuary 386 N 100 W. and at the church at 10:00 am prior to the service. Interment will follow at the Sunset Memorial Gardens Cemetery.
Photo Gallery - Click a Picture For Enlarged Slide Show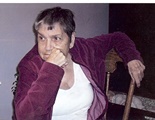 Printable Page Add Picture Add Tribute/Condolence Funeral Program
PLEASE NOTE: Pictures and Tributes will be reviewed before being posted. We will post them ASAP, we appreciate your patience. PLEASE DON'T RESUBMIT.
Debbie Moniz
b: 4/16/1956
d: 3/28/2020
Service: Pending
Laurel Weeks-Pinkham
b: 8/28/1950
d: 3/20/2020
Service: 03/27/2020, 1:00 pm
Sunset Memorial Gardens
Terry Seal
b: 4/24/1949
d: 3/15/2020
Service: Private
Julia Shephardson
b: 11/18/1954
d: 3/11/2020
Service: 03/20/2020, 1:00 pm
Grand Valley Cemetery
Royal Holter Jr
b: 8/20/1951
d: 3/10/2020
Service: 03/17/2020, 1:00 pm
Sunset Memorial Gardens Cemetery
Lois Jamison
b: 6/14/1925
d: 3/9/2020
Service: Pending
LaRay Byers
b: 10/2/1939
d: 3/3/2020
Service: 03/07/2020, 1:00 pm
Moab Church of Jesus Christ of Latter-day Saints 400 North Chapel
They Live On
Those we love remain with us
For love itself lives on;
Cherished memories never fade
Because one loved is gone.
Those we love can never be
More than a thought apart;
For as long as there's a memory,
They live on within our heart.