Betty Lou Relitz

Born: 3/11/1936, Crawford, Colorado
Death: 9/5/2016, Moab, Utah
Service: Private


Betty Lou Relitz, 80, died peacefully at her home with her children by her side on September 5, 2016. Betty was born on March 11, 1936 in Crawford, Colorado to William and Zola Moore. She spent time in western Colorado before settling in Moab.

She had six beautiful children: Deborah (Randy) Randall, Kathy (Lloyd) Swenson, Jimmy Dean Cochran, Duke (Tanya) Relitz, Brian Relitz, and preceded in death by son Randall (Lori) Bell.

Betty loved to talk, doodle, garden, going to garage sales, and to spend time with her children, grandchildren, great grandchildren and great-great grandchildren.

Services are pending at this time.

Tributes:

So sorry for your loss I have fond memories of Aunt Betty and the fun times we had as kids our condolences to you.
- William Moore

Printable Page Add Picture Add Tribute/Condolence

PLEASE NOTE: Pictures and Tributes will be reviewed before being posted. We will post them ASAP, we appreciate your patience. PLEASE DON'T RESUBMIT.
Mary Mays
b: 3/5/1939
d: 9/22/2020
Service: Pending


OraLynn Means
b: 7/13/1936
d: 9/21/2020
Service: 09/28/2020, 11:00 am at The LDS Church on 400 North


Guy Thomas
b: 1/10/1950
d: 9/18/2020
Service: Private


Werner Wucherer
b: 1/20/1934
d: 9/10/2020
Service: Private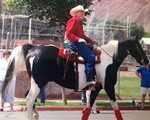 Rodney Dalton
b: 1/18/1934
d: 9/1/2020
Service: 09/08/2020, 10:00 am Grand Valley Cemetery

They Live On
Those we love remain with us
For love itself lives on;
Cherished memories never fade
Because one loved is gone.
Those we love can never be
More than a thought apart;
For as long as there's a memory,
They live on within our heart.