Eva D Lillibridge
Born: 2/17/1942, Quanah, Texas
Death: 5/27/2009, Moab, Utah
Service: 05/31/2009 1:00 pm, Spanish Valley Mortuary

Moab –Eva D. Lillibridge, 67, passed away on Wednesday, May 27, 2009 at her home.
Eva was born on February 17, 1942 in Quanah, Texas. Eva grew up in Texas graduating from high school. She married John Lillibridge and they later divorced. While living in Moab Eva worked as a clerk for Walker Drug and City Market. She enjoyed being with people, raising plants, reading, and movies. Her greatest love was her family.
She is Survived by her daughters Laura Ann Moyano of Grand Junction, CO, Lenora Fay Mosier of Glenrock, WY, Barbara Jon Lillibridge, Dorothy Jean Lillibridge, and Jessica Allred all of Moab; a brother Bud Voss of Moab; 14 grandchildren and 11 great-grandchildren.
Eva was preceded in death by her parents, a brother and 2 sisters.
A Funeral Services was held Sunday May 31, 2009 at 1:00 am at the Spanish Valley Mortuary 386 North 100 West Moab, UT. A viewing was held Saturday May 30 from 6:00 to 8:00 pm at the mortuary. Following the service cremation will take place.
Photo Gallery - Click a Picture For Enlarged Slide Show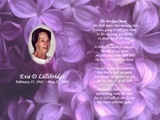 Printable Page Add Picture Add Tribute/Condolence Funeral Program
PLEASE NOTE: Pictures and Tributes will be reviewed before being posted. We will post them ASAP, we appreciate your patience. PLEASE DON'T RESUBMIT.
Bobby Brookshier
b: 5/7/1929
d: 1/21/2019
Service: 01/28/2019, 1:00 pm
Spanish Valley Mortuary
Michaelene Pendleton
b: 5/15/1946
d: 1/21/2019
Service: Private
Jeanne von Zastrow
b: 6/10/1955
d: 1/20/2019
Service: 01/26/2019, 11:00 am
St Francis Episcopal Church
Michael Shumway
b: 6/13/1953
d: 1/17/2019
Service: 01/22/2019, 12:00 pm
Sunset Memorial Gardens Cemetery
W J Tyler Palmer
b: 3/23/1985
d: 1/11/2019
Service: 01/16/2019, 5:00 pm
Sand Flats Recreation Area D Loop #D-18
Kathleen Daniels
b: 10/25/1962
d: 1/11/2019
Service: Private
Gary Walter
b: 2/26/1947
d: 1/9/2019
Service: Private
Lisa Lee Maher
b: 9/18/1930
d: 1/3/2019
Service: Private
Robin Groff
b: 10/24/1952
d: 1/2/2019
Service: 01/12/2019, 1:00 pm
M A R C
Bill Hopkins
b: 3/20/1951
d: 1/2/2019
Service: Private
H Gill Nielsen
b: 10/22/1941
d: 1/1/2019
Service: Private
Norma Nunn
b: 5/9/1933
d: 12/28/2018
Service: 01/05/2019, 11:00 am
Moab Community Church
They Live On
Those we love remain with us
For love itself lives on;
Cherished memories never fade
Because one loved is gone.
Those we love can never be
More than a thought apart;
For as long as there's a memory,
They live on within our heart.