Philip Alan Nelson
Born: 7/10/1952, San Angelo, Texas
Death: 7/11/2009, Green River, Utah
Service: 07/25/2009,11:00 am, John Wesley Powell River Museum in Green River

He died suddenly Saturday, July 11, 2009 at his home in Green River, Utah. Philip was born July 10, 1952 in San Angelo, Texas to Helen Louise Phillips.
Phil's childhood was spent in many places including Washington, Delaware, and El Paso Texas as his stepdad, Russell Nelson was in the Air Force. He had special memories of the 3 years he spent in Scotland.
In the early 1970s he moved out west to Grand Canyon, Arizona. He was known as Phantom Phil for awhile, hiking the canyon in the summers, and living in California in the winter. In 1982 Phil moved to Moab, Utah to become a boatman. The he moved to Parks, Arizona 1983 – 1991 where he continued his pursuit of exploring river canyons all over the southwest. In 1991 he moved to Glenwood, New Mexico and had a stint as a Forest Ranger, but then decided government work was not for him. In 1997 he moved to Green River, Utah to be closer to the rivers he loved.
His companion of 25 years, Katherine Brown, paddled her own boat right along with Phil on many trips. Phil and Katherine had bought a house in Green River and were planning to finally have a home base. This past winter Phil had home published a book of autobiographical stories called, Desert River Stories.
Phil had just recently boated the Escalante River for 18 days with a good friend Gregg Baumgarten. In between river trips Phil made a living as a painter, carpenter, and all-around handyman in Green River, Utah. He also spent many hours building unique frames for his inflatable kayak – always perfecting his equipment for his next expedition.
Even though he did many trips alone Phil wanted to share his love of rivers and inspire others to slow down and enjoy life. As one of his favorite songs states, "Drink life one drop at a time" (Michael Murphey).
Phil is survived by his wife, Katherine Brown; mother, Helen Nelson; stepfather, Russell Nelson; sisters, Sally Nelson and Sue Savino; and brother, Russ Nelson. He was preceded in death by his grandparents, Sam & Louise Phillips. There will be a memorial service Saturday, July 25th 2009 at the John Wesley Powell River Museum in Green River at 11:00 AM
In lieu of flowers donations can be made through Key Bank in Green River, Utah to help with expenses.
Photo Gallery - Click a Picture For Enlarged Slide Show



Printable Page Add Picture Add Tribute/Condolence
PLEASE NOTE: Pictures and Tributes will be reviewed before being posted. We will post them ASAP, we appreciate your patience. PLEASE DON'T RESUBMIT.

Ronald Robertson
b: 8/24/1934
d: 9/27/2020
Service: 10/02/2020, 11:00 am Moab LDS Stake Center on Locust Lane

Mary Mays
b: 3/5/1939
d: 9/22/2020
Service: Pending


OraLynn Means
b: 7/13/1936
d: 9/21/2020
Service: 09/28/2020, 11:00 am at The LDS Church on 400 North


Guy Thomas
b: 1/10/1950
d: 9/18/2020
Service: Private


Werner Wucherer
b: 1/20/1934
d: 9/10/2020
Service: Private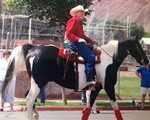 Rodney Dalton
b: 1/18/1934
d: 9/1/2020
Service: 09/08/2020, 10:00 am Grand Valley Cemetery

They Live On
Those we love remain with us
For love itself lives on;
Cherished memories never fade
Because one loved is gone.
Those we love can never be
More than a thought apart;
For as long as there's a memory,
They live on within our heart.