Nancy Katherine Thompson

Born: 9/7/1938, Modesto, California
Death: 11/7/2016, Grand Junction, Colorado
Viewing: 11/12/2016, 10:00 am
Service: 11/12/2016, 11:00 am, Moab LDS 400 North Chapel
Interment: 11/12/2016, 12:30 pm, Grand Valley Cemetery


Nancy Katherine Minor Thompson, 78, passed away on Nov. 7, 2016 from complications of Multiple Sclerosis and pneumonia. She returned to her Heavenly Father and her other family members who have preceded her in death including her Eternal companion, David C. Minor.

Nancy was born on Sept. 7, 1938 in Modesto, California, to Henry Dayton and Ruth Elizabeth Squires. She attended school in Modesto, including Modesto Jr. College, where her father was a professor. She continued her studies at Sacramento State College where she met David Minor. They were married in June of 1961 then sealed in the Salt Lake Temple in 1972.

Nancy and Dave enjoyed living in various national parks and always enjoyed the outdoors. When they landed in Canyonlands in 1968 they knew they were home and stayed in Moab, where they raised their children. After David passed away in 1990, she fell in love and married a family friend in Val Thompson on Aug. 17, 1996.

Nancy and Val also loved the outdoors and enjoyed fishing and hunting together while her health permitted. She loved the Moab Music Festival and attended regularly.

Nancy is known to many as Moab's tax lady, owning the Moab H&R Block office from 1979 until her retirement. She enjoyed the opportunity it gave her to help her many new friends. She enjoyed church service in many ways, but her favorite was teaching.

She is survived by her husband, Val Thompson of Moab; children, Annette (Tom) Gabriella of San Marcos, California, and Kenneth (Lourae) Minor of Moab; stepchildren, Rick (Cindy) Thompson and Valoie (Jay) Leetham both of Moab, Valerie O'Brien of Escondido, California, Pam Jackson of Salt Lake City, Valden (Claudia) Thompson of Herriman, and Chad (Amy) Thompson of West Haven. She is also survived by 33 grandchildren and 21 great-grandchildren.

She was preceded in death by David; her parents; her brother, Peter D. Squires; and stepson Brian Thompson.

A funeral service will be held Saturday, Nov. 12 at 11 a.m. at the Moab LDS 400 North Chapel, with a viewing at 10 a.m. Interment will follow the services at Grand Valley Cemetery. In lieu of flowers the family suggests donations to CNS Hospice.

Tributes:

To the Minor and Thompson families,

My deepest condolences to all of you on Nancy's passing. She was such a ray of light in the world... a kind, open & generous person... an inspiration to all of us.
May you find deep peace in these painful days and also joy in having shared in life with her. Know that her spirit shines grace and love down upon you.
With deepest sympathy,
- Lin KolbDear Ken, Lourae and family,

"Deep peace of the quiet earth to you
Deep peace to you."
-from a Gaelic blessing

Nancy was a part of your lives for a long time, I know. With sympathy at your time of loss.
- Maggie Corson

Printable Page Add Picture Add Tribute/Condolence

PLEASE NOTE: Pictures and Tributes will be reviewed before being posted. We will post them ASAP, we appreciate your patience. PLEASE DON'T RESUBMIT.
Mary Mays
b: 3/5/1939
d: 9/22/2020
Service: Pending


OraLynn Means
b: 7/13/1936
d: 9/21/2020
Service: 09/28/2020, 11:00 am at The LDS Church on 400 North


Guy Thomas
b: 1/10/1950
d: 9/18/2020
Service: Private


Werner Wucherer
b: 1/20/1934
d: 9/10/2020
Service: Private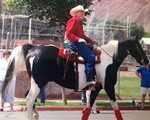 Rodney Dalton
b: 1/18/1934
d: 9/1/2020
Service: 09/08/2020, 10:00 am Grand Valley Cemetery

They Live On
Those we love remain with us
For love itself lives on;
Cherished memories never fade
Because one loved is gone.
Those we love can never be
More than a thought apart;
For as long as there's a memory,
They live on within our heart.