Hans A Weibel

Born: 4/20/1931, Winterthur, Switzerland
Death: 11/15/2016, Moab, Utah
Service: Private


obit to be added at a later date.

Tributes:

Dear Madeline,
We just heard about the passing of Hans. You are in our thoughts and prayers. I told my parents and they are very sad to hear this about Hans. They began reminiscing about the good old Vail days! You are in our hearts!
- The Elias FamilyMadeline, I was so sorry to read of Hans passing. My parents loved and enjoyed your friendship so much. I know you were so good to them. We always enjoyed visiting with you when we were in Moab. I hope you are doing well. Love and prayers to you.
- Steve and Shaunna Newell TaylorChere Madeline, Such big country and we have not seen you for so many years, but fond memories of Hans stay with us.

I hope Natja will be with you,and that you you can both come to visit, us in Vail.
Take care with warm wishes from us
" Old Vail!"
call us 970 476 5157
- John and AnneMarie MuellerMadeline, I was so sad to hear of Hans passing, I love you two so much and I was so honored to know him and you.
- Tina KelchDear Madeline

I was so sorry to hear of the passing of Hans. I have such wonderful memories of both of you when Benno and I visited you in Honduras. Even little Benno, not so little and
already 45, married with two kids asks about you and he remembers the two weeks we stayed with you. Hans was definitely a loving character and he leaves us with fond memories.

Michael and I think back about the time we visited you in Moab in your beautiful house with the wonderful views and swimming pool.

Madeline, this must be so difficult for you having been together such a long time, would love to hear from you when you are up to it. Quite a few people here in Vail have contacted me regarding you and Hans.

With heartfelt condolences,
- Karin ScheideggerMadeleine,
Connie and I are so sorry to hear of Hans' passing. We'll always remember the hiking and hospitality the two of you shared with us. Hans was such a unique and unforgettable individual; a great neighbor and friend. He taught me so much about the back country of Moab, and I certainly miss those trail rides. Our hearts go out to you in this time of grief.
Sincerely,
- Myron GordinMadeline, I'm very sorry to hear of your loss of that vibrant and jovial man. I always enjoyed seeing him and his big smile. I'm sure you have many wonderful memories.
- Ed WeeksWe were surprised and sadden to hear of Hans' passing. We always enjoyed visiting and talking with him. May God be with you all in this time of grief.
- David & Diana VaughnMadeline - I am so sad to hear of Hans' passing. My heart goes out to you on your loss. I hope that you will travel to Vail and stay with Lainey and I as soon as possible. Hans was a great friend and partner and I often laugh at many of his antics. What a character. All our love,
- Merv and Lainey Lapin

Printable Page Add Picture Add Tribute/Condolence

PLEASE NOTE: Pictures and Tributes will be reviewed before being posted. We will post them ASAP, we appreciate your patience. PLEASE DON'T RESUBMIT.
Mary Mays
b: 3/5/1939
d: 9/22/2020
Service: Pending


OraLynn Means
b: 7/13/1936
d: 9/21/2020
Service: 09/28/2020, 11:00 am at The LDS Church on 400 North


Guy Thomas
b: 1/10/1950
d: 9/18/2020
Service: Private


Werner Wucherer
b: 1/20/1934
d: 9/10/2020
Service: Private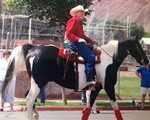 Rodney Dalton
b: 1/18/1934
d: 9/1/2020
Service: 09/08/2020, 10:00 am Grand Valley Cemetery

They Live On
Those we love remain with us
For love itself lives on;
Cherished memories never fade
Because one loved is gone.
Those we love can never be
More than a thought apart;
For as long as there's a memory,
They live on within our heart.