Fred Brayman
Born: 3/26/1943, Seattle, WA
Death: 8/16/2009, Salt Lake City, UT
Service: 08/22/2009,11:00 am, Castle Valley Cemetery
Interment: 8/22/2009, Castle Valley Cemetery

frederick brayman
becoming art
it took a long time
never suddenly
or quickly
beyond myself
realizing or
sensing painful
contradictions

i had become
my art
in present
past and future
everything
in fragments of
one continuous
mystery never
to be solved

everything left
to unlearn
the cause
the effect
an expectation
or belief

the uninterrupted
replications of
mistakes and
alternative
mistakes

the other choice
was doing nothing

in defiant personal
defense
my art with
only scavenged

muted muddied
metaphors

replicating sundowns
dissolving
ruby red
we never had
a choice

Visual artist, poet, musician and antiestablishmentarian, Frederick Brayman, passed away on August 16th, 2009 in Salt Lake City, Utah. He was born March 26th, 1943 in Seattle, Washington to Alice and Marshall Brayman.
Funeral services will be held in Moab, Utah on Saturday, August 22nd. Please contact daughter, Abra Brayman (661.414.6009) or Spanish Valley Mortuary (435.259.3980) for exact location and time. A wake/potluck will be held on August 23rd at noon in Salt Lake City, Utah at Warm Springs Park: 300 West, 900 North (behind old Children's Museum). Please bring memories, mementos and creative tributes. For details contact James Baker (801.663.9160).
Fred will be greatly missed and in our hearts forever. He is now one with all Buddhas throughout space and time!
Photo Gallery - Click a Picture For Enlarged Slide Show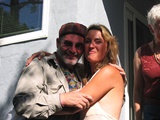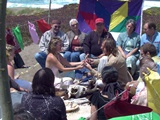 Printable Page Add Picture Add Tribute/Condolence
PLEASE NOTE: Pictures and Tributes will be reviewed before being posted. We will post them ASAP, we appreciate your patience. PLEASE DON'T RESUBMIT.