Lisa Ramona Torres

Born: 1/29/1964, Moab, Utah
Death: 11/29/2016, GRand Junction, Colorado
Service: Pending


Lisa Ramona Torres, 52, passed away November 29, 2016 at Hopewest Hospice Care Center in Grand Junction.

Lisa was born January 29, 1964 in Moab, Utah to Louie and Nicki Torres Martinez. She grew up in Moab and worked as a housekeeper for the hotel industry. She married James Hurtado and had 2 sons. They later divorced. In 2006 she married Daniel "Bear" Maryboy. She enjoyed the mountains, fishing, and spending time with Jazzy.

She is survived by her husband Daniel "Bear" Maryboy; 2 sons James Hurtado Jr. and Brandon Hurtado of Moab; father Louie Martinez of Santa Fe, New Mexico; 9 grandchildren; 7 sisters and 2 brothers, and numerous nephews, nieces and extended family that will miss her very much.

Funeral Services will be held Tuesday December 6, 2016 at 10:00 am at St. Pius X Catholic Church. A viewing will be held Monday December 5, 2016 starting at 6:00 pm at Spanish Valley Mortuary and one hour prior to the service at the church.

Printable Page Add Picture Add Tribute/Condolence

PLEASE NOTE: Pictures and Tributes will be reviewed before being posted. We will post them ASAP, we appreciate your patience. PLEASE DON'T RESUBMIT.
Mary Mays
b: 3/5/1939
d: 9/22/2020
Service: Pending


OraLynn Means
b: 7/13/1936
d: 9/21/2020
Service: 09/28/2020, 11:00 am at The LDS Church on 400 North


Guy Thomas
b: 1/10/1950
d: 9/18/2020
Service: Private


Werner Wucherer
b: 1/20/1934
d: 9/10/2020
Service: Private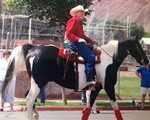 Rodney Dalton
b: 1/18/1934
d: 9/1/2020
Service: 09/08/2020, 10:00 am Grand Valley Cemetery

They Live On
Those we love remain with us
For love itself lives on;
Cherished memories never fade
Because one loved is gone.
Those we love can never be
More than a thought apart;
For as long as there's a memory,
They live on within our heart.