D Kim # Ruble

Born: 1/11/1952, Marietta, Ohio
Death: 12/12/2016, Moab, Utah
Service: 12/16/2016, 2:00 pm, Canyonlands Airport


Donald "Kim" Ruble passed away at the age of 64 in Moab Utah on Dec 12th, 2016. He is survived by his wife, Lisa Kussmaul and daughters Michelle (Jonathan) Ruble-Denes, Christie Lynn Ruble and Elisabeth Rose (Noah) Shook. He is also survived by grandchildren Morgan Alexander Denes and Mena Mei-Xin Denes and his sisters Karen Rose Ruble and Sheryne (Jerry) Merkel.

Kim was born January 11th 1952 to parents Rose and Frederick Ruble in Marietta Ohio. He grew up in Waterford Ohio where he had a love of flying from a young age. As Kim dreamed of flying, he was challenged by a teacher that if men were meant to fly, God would have given men wings. He of course proved the teacher wrong.

Kim served in the army between 1971 and 1973 in Germany with the 385th MP Battalion. He was very proud to give service to his country. Kim was also a member of the Freemasons and was granted the exalted position of Grand Master.

Kim worked as a millwright in Waterford Ohio until retirement 2003, when he then began his love for travelling. He especially loved to visit Cody, Wyoming and Glacier National Park, Montana but made Moab, Utah his home in 2011. He and his wife Lisa worked together at the Moab KOA, making many dear friends. Kim then began working at Redtail Air Adventures the following year where he claimed he "lived the dream" of flying daily. Kim soon became the Chief Pilot of Redtail Air and loved to give tours to and connect with visitors from all over the world.

Kim will be remembered for his upbeat personality, his "what's clicking chicken?" greeting, his adventurous stories and his infectious smile. Kim is loved by all who knew him and he will be greatly missed by his many friends and family alike.

Kim is predeceased by parents Rose Cody Ruble and Frederick Donald Ruble. He is also predeceased by sister Janet Kay Burt.

A memorial service for Kim will take place at the Canyonlands Airfield on Friday, Dec 16th at 2 PM. In lieu of flowers, the family asks that donations be made to the Moab Humane Society and Moab Animal Shelter as Kim had a great love for animals.

Printable Page Add Picture Add Tribute/Condolence

PLEASE NOTE: Pictures and Tributes will be reviewed before being posted. We will post them ASAP, we appreciate your patience. PLEASE DON'T RESUBMIT.
Mary Mays
b: 3/5/1939
d: 9/22/2020
Service: Pending


OraLynn Means
b: 7/13/1936
d: 9/21/2020
Service: 09/28/2020, 11:00 am at The LDS Church on 400 North


Guy Thomas
b: 1/10/1950
d: 9/18/2020
Service: Private


Werner Wucherer
b: 1/20/1934
d: 9/10/2020
Service: Private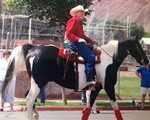 Rodney Dalton
b: 1/18/1934
d: 9/1/2020
Service: 09/08/2020, 10:00 am Grand Valley Cemetery

They Live On
Those we love remain with us
For love itself lives on;
Cherished memories never fade
Because one loved is gone.
Those we love can never be
More than a thought apart;
For as long as there's a memory,
They live on within our heart.