Kathleen Inez Stubbs

Born: 10/19/1948, Durango, Colorado
Death: 12/16/2016, Vernal, Utah
Viewing: 12/22/2016, 1:00 pm
Service: 12/22/2016, 1:00 pm, Spanish Valley Mortuary


Kathleen Inez Stubbs, our sweet Mom, Sister, Grandma, Aunt, Cousin, and dear friend passed away December 16, 2016. Born in Durango Colorado October 19 1948 to parents, Inez Elmina Black and Wayne Walker. Kathleen was blessed with 6 children; Rena Kathleen, Laurie Brooke, Gayle Inez, Infant daughter Kathie Jean, Jared Earl, and James LeRoy. She was preceded in death by her parents, Wayne Walker, Inez and Deloy Shumway, grandparents Rena and Clyde Black; baby Kathie Jean; husbands, Keith Carroll, Gene Jaeger, LeRoy Stubbs, and partner Rusty Castor, (deceased); and 3 brothers, Earl, Bradley, and Eric Shumway. She is survived by daughters Rena, Brooke, Gayle, Jared, James; 15 grandchildren and 22 great grandchildren, Brothers Kerry and Reagan Shumway, sisters Susan Shumway and Rhonda Redington.

Kathleen spent much of her early life in Goodman Point, Colorado with her grandparents and great grandparents, many cousins and family. She learned from great grandma Mina to love flowers in quilts, dishes, rugs…Kathleen loved anything from the 1940's and 1950's because they reminded her of her childhood. She attended early school in Cortez, CO, then when her mom Inez married Deloy Shumway; Kathleen and Kerry moved to Blanding, Utah and went to school in Park Terrace, and then San Juan H.S.

Kathleen married Keith Carroll in 1963; they had three daughters, he was killed in a mining accident. Married Gene Jaeger, they moved to Bluff, Ut. They had one infant daughter Kathie Jean, who died who was still born. Kathleen and Gene divorced. Several years later she met LeRoy Stubbs in Springville, UT. They were married and had two boys, Jared and James. They were divorced. Kathleen moved around trying to find the place she needed to be, and finally settled in Moab, UT. Kathleen found her life partner Rusty Castor and was happy.

Funeral services for Kathleen will be held on Thursday December 22, 2016: Viewing from 12:00-1:00 and service to follow at the Spanish Valley Mortuary, 386 N. 100 W. Moab, UT.

Tributes:

My condolences to the family of Kathleen Stubbs. Death is an enemy as I'm sure you would agree to.
I did not know Kathleen personally, but at the age of 75, I have had to deal with the loss of family and friends. To help me cope I think about the Bible account of the death of Jesus friend, Lazarus. [John 11]. vs:11 Jesus said he had fallen asleep and was going to wake him.
vs: 13 Jesus said he was dead. Death is a state of being asleep.
Someday soon all the dead in God's memory will be awaken by Jesus to life on a Paradise earth. [Matt 5:5].
For more comfort please visit the following site (When Someone You Love Dies). https://www.jw.org/finder?pub=we&wtlocale=E&srcid=share

You may also contact me.
- Steve KlausIt is my hope that the family receives comfort from the many warm memories and from the comforting words at 1 Peter 5 : 7
"while you throw all your anxiety on HIM because HE cares for you."
- Rosita

Printable Page Add Picture Add Tribute/Condolence

PLEASE NOTE: Pictures and Tributes will be reviewed before being posted. We will post them ASAP, we appreciate your patience. PLEASE DON'T RESUBMIT.

Ronald Robertson
b: 8/24/1934
d: 9/27/2020
Service: 10/02/2020, 11:00 am Moab LDS Stake Center on Locust Lane

Mary Mays
b: 3/5/1939
d: 9/22/2020
Service: Pending


OraLynn Means
b: 7/13/1936
d: 9/21/2020
Service: 09/28/2020, 11:00 am at The LDS Church on 400 North


Guy Thomas
b: 1/10/1950
d: 9/18/2020
Service: Private


Werner Wucherer
b: 1/20/1934
d: 9/10/2020
Service: Private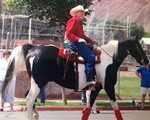 Rodney Dalton
b: 1/18/1934
d: 9/1/2020
Service: 09/08/2020, 10:00 am Grand Valley Cemetery

They Live On
Those we love remain with us
For love itself lives on;
Cherished memories never fade
Because one loved is gone.
Those we love can never be
More than a thought apart;
For as long as there's a memory,
They live on within our heart.