Norma Jean Wyatt

Born: 7/13/1930, Moab, Utah
Death: 1/14/2017, Grand Junction, Colorado
Viewing: 01/20/2017, 5:00 to 7:00 pm
Service: 01/21/2017, 11:00 am, Moab LDS 400 North Chapel
Interment: 01/21/2017, 12:30 pm, Sunset Memorial Gardens


Mom, AKA Norma Wyatt, beloved wife, mother, grandmother, and sister, crossed over to be with her Heavenly Father on January 14, 2017. She passed peacefully at home surrounded by loved ones. Mom was born Norma Jean Ellis in 1930 in Moab, Utah to Otto and Alice Ellis. In 1949 she married Herbert (Bud) Merz, with whom she had 4 children.

In 1973 Mom married the love of her life, James Wyatt, with whom she would spend the rest of her life. Mom and Jim were devoted members of the LDS church, where she was a member of the Relief Society. They chose to be sealed to each other for all eternity in the Jordan River LDS Temple in 1995. After working many other jobs, Mom found her true calling in caring for and helping others. She retired after 30 years as a nurse assistant and cook at Allen Memorial Hospital.

Mom had a wonderful sense of humor, and loved time with family, arts and crafts, and dancing. She especially loved playing cards and games with her grandchildren.

She is survived by her husband, Jim Wyatt of Grand Junction; brothers Ray Ellis and John Stocks, a sister LaDean Black ; and children, Jeanie Merz, Budd Merz, Jr. (Cheri), Don Merz (Joy), and Gaylene Merz; ten grandchildren, nineteen great-grandchildren and seven great-great-grandchildren.

A public viewing is scheduled for 5-7 p.m. at Spanish Valley Mortuary. Funeral services will be held on Saturday, January 21, 2017 at 11:00 am at Moab LDS 2nd Ward Chapel, 475 West 400 North, Moab, Utah; followed by a graveside service at Sunset Memorial Gardens. In lieu of flowers the family suggests to make a donation to a favorite charity. Mom enjoyed flowers except for carnations, so please no carnations in her honor.

Tributes:

Cousins, my heartfelt sympathy to you in the sad parting of you and Norma. She was an angel of mercy to many and inspired those she came in contact with. God be with you and comfort you for the time you will wait to see her again. God blessed you with this woman. Precious, sweet, spirited, she leaves quite a legacy.
- Lurell Stocks BaileyOur condolence to the family love you.
- Mike and Audrey GregoryOur Condolences and Prayers for comfort and peace. (((HUGS)))
- Ron and Kay SmithI miss you so much grandma you were the light in my life and my motivation. I always think of you and all you did for me. I everyday I regret being irresponsible instead of going to see you one last time. It hurts me so much that I did that to you and i hate myself for it everyday. I'm so happy that i knew you and got such a good relationship with you. I love you and that will never change. I know your in a better place and not in pain anymore. I'll see you again one day I love you you are missed
- Peirce

Printable Page Add Picture Add Tribute/Condolence

PLEASE NOTE: Pictures and Tributes will be reviewed before being posted. We will post them ASAP, we appreciate your patience. PLEASE DON'T RESUBMIT.
Mary Mays
b: 3/5/1939
d: 9/22/2020
Service: Pending


OraLynn Means
b: 7/13/1936
d: 9/21/2020
Service: 09/28/2020, 11:00 am at The LDS Church on 400 North


Guy Thomas
b: 1/10/1950
d: 9/18/2020
Service: Private


Werner Wucherer
b: 1/20/1934
d: 9/10/2020
Service: Private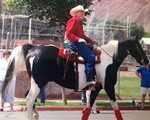 Rodney Dalton
b: 1/18/1934
d: 9/1/2020
Service: 09/08/2020, 10:00 am Grand Valley Cemetery

They Live On
Those we love remain with us
For love itself lives on;
Cherished memories never fade
Because one loved is gone.
Those we love can never be
More than a thought apart;
For as long as there's a memory,
They live on within our heart.