B Wade # Tangreen

Born: 11/3/1943, Moab, Utah
Death: 1/23/2017, Salt Lake City, Utah
Viewing: 01/27/2017, 10:00 am, Moab LDS 400 North Chapel
Service: 01/27/2017, 11:00 am, Moab LDS 400 North Chapel
Interment: 01/27/2017, 12:30 pm, Grand Valley Cemetery


Byron "WADE" Tangreen passed away in comfort, on January 23, 2017. Wade was born, the youngest of seven children, to Ruby and Clarence Tangreen. He graduated in 1962, and later that year married Connie Marsing. To this union were born four children--Brenda, Michael, Beverly Kim and Jeremiah. He lived most of his life in and around Moab, Utah until after they divorced in 1978.

Later, Wade was married to Sandi Tangreen for nearly ten years. They often traveled between Worden Montana, LaSal and Summit Utah, and Bagdad Arizona, Picking up grandchildren in Arizona and Utah to spend time in Montana, and then returning them to their homes. And although they did divorce, Sandi continues to play a big part in the lives of his children and grandchildren, who will ever be thankful that he brought her into their lives.

Wade is currently married to Nubia Tangreen, who is from Columbia. They met and courted online, and were married in Columbia on Wade's second visit there. When Nubia joined Wade's family she brought two wonderful children with her; daughter, Angelica and son, Sebastian. Nubia has taken very good care of Wade up to the very end.

Wade was preceded in death by his father and mother, brothers Andrew and Doug, and sisters Dixie Leech and Lenore McCoy. Also, his daughter Kim and her husband Joey Mitchell, and cherished grandson, Marcus Martineau. Wade is survived by his wife Nubia, and Angelica & Sebastian, brother Kay and sister Evalou Wright, his children - Brenda Martineau and her children Maranda Tilley, Mandy Smouse, Makai , and Matea Wilmarth; his son Michael with his children Heather, Michelle and Christopher; and son Jeramiah. He is also survived by thirteen great grandchildren and many nieces and nephews.

Wade lived a good life in spite of suffering much pain over the last 40 years. May he now Rest In Peace until we all meet again.

Funeral Service will be held Friday January 27, 2017 at 11:00 am at the Moab LDS 400 North Chapel, with a viewing one hour prior to the service. Interment will follow at the Grand Valley Cemetery.

Tributes:

I attended the Moab schools with Wade and knew him as a friend for all those years. I am so sorry to hear of his passing. My condolences to his family and those who loved him. He was a wondrous friend.
- Lurell Stocks Bailey

Printable Page Add Picture Add Tribute/Condolence

PLEASE NOTE: Pictures and Tributes will be reviewed before being posted. We will post them ASAP, we appreciate your patience. PLEASE DON'T RESUBMIT.
Mary Mays
b: 3/5/1939
d: 9/22/2020
Service: Pending


OraLynn Means
b: 7/13/1936
d: 9/21/2020
Service: 09/28/2020, 11:00 am at The LDS Church on 400 North


Guy Thomas
b: 1/10/1950
d: 9/18/2020
Service: Private


Werner Wucherer
b: 1/20/1934
d: 9/10/2020
Service: Private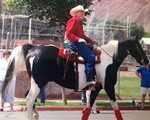 Rodney Dalton
b: 1/18/1934
d: 9/1/2020
Service: 09/08/2020, 10:00 am Grand Valley Cemetery

They Live On
Those we love remain with us
For love itself lives on;
Cherished memories never fade
Because one loved is gone.
Those we love can never be
More than a thought apart;
For as long as there's a memory,
They live on within our heart.