Betty Jean Hazlett
Born: 9/5/1937, Mount Olive, North Carolina
Death: 8/22/2009, Moab, Utah
Viewing: 08/29/2009, 9:00 am
Service: 08/29/2009, 10:00 am, Moab LDS 2nd Ward Chapel
Interment: 08/29/2009, 3:00 pm, Orem City Cemetery

Betty Jean Benson Hazlett passed away in her home in Moab, Utah on August 22, 2009 at the age of 71.
She was born on September 5,1937 in Mt. Olive, North Carolina to Edith Howell and Velmon Benson. She learned the value of hard work being raised on the tobacco farms of the deep south. While working as a waitress at a drive-in she met the love of her life, Donald Lewis Hazlett. They were married on April 3, 1953 and later sealed in the Salt Lake Temple. Most of her married life she kept the home fires burning in North Carolina while her husband served for nearly 30 years in the Marine Corps. During that time they joined the Church of Jesus > Christ of Latter-day Saints where she served in Relief Society,Young Womenís, Sunday School, and as the early morning seminary teacher for many years. Upon her husbandís retirement from the military, she moved to Utah where family continued to be her focal point. Her kids and grandkids were the center of her attention.
When asked her favorite time of life she would say it was when all her kids were at home. Besides her family, Betty loved bowling, crocheting, and reading mystery novels. After a short stay in Idaho they relocated in Moab to enjoy the warmer weather.
Betty is survived by 3 children, Donald (Ramona) Hazlett, Pocatello, Idaho, Vickie (Mark) Landon, Idaho Falls, Idaho, and Steve (Nicki)Hazlett, Moab. She is also survived by 13 grandchildren, 1 great-grandchild (with another grandchild and great-grandchild both due in September, her sisters Sue Gamber of North Carolina, and Kaye Dail of Virginia.
She was preceded in death by her husband (Don), a son (Richard), and her parents.
Funeral services will be held Saturday, August 29, 2009 at 10:00 a.m. at the 4th North Chapel in Moab. A viewing will be held from 9:00-9:45 a.m. that same morning. Interment will be at 3:00 p.m. at the Orem City Cemetery.
Photo Gallery - Click a Picture For Enlarged Slide Show




Printable Page Add Picture Add Tribute/Condolence Funeral Program
PLEASE NOTE: Pictures and Tributes will be reviewed before being posted. We will post them ASAP, we appreciate your patience. PLEASE DON'T RESUBMIT.
Mary Mays
b: 3/5/1939
d: 9/22/2020
Service: Pending


OraLynn Means
b: 7/13/1936
d: 9/21/2020
Service: 09/28/2020, 11:00 am at The LDS Church on 400 North


Guy Thomas
b: 1/10/1950
d: 9/18/2020
Service: Private


Werner Wucherer
b: 1/20/1934
d: 9/10/2020
Service: Private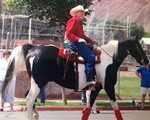 Rodney Dalton
b: 1/18/1934
d: 9/1/2020
Service: 09/08/2020, 10:00 am Grand Valley Cemetery

They Live On
Those we love remain with us
For love itself lives on;
Cherished memories never fade
Because one loved is gone.
Those we love can never be
More than a thought apart;
For as long as there's a memory,
They live on within our heart.