Del # Cather

Born: 3/3/1935, Maramac, Oklahoma
Death: 3/20/2017, Moab, Utah
Service: 03/27/2017, 11:00 am, Community Church


Delmas "Del" Cather, 82, passed away at his home March 20, 2017 surrounded by his loving family. Del was born March 3, 1935 in Maramac, Oklahoma to John Q. and Helen Dailey Cather. He went to school in Oklahoma until his junior year when the family moved to Stanford, Montana. He graduated from Stanford High School and later moved to Fairfield Montana where he met the love of his life Shirley Lewis. They were later married on March 18, 1953 in Fairfield. He worked as a custom combiner until 1958 when they moved to Colorado where he worked in the mining industry. He continued to work in the mining industry and in 1978 moved to Moab mining Uranium. When the uranium boom ended Del started his own trucking business where he hauled petroleum and then later hauled for K Sue Construction until he retired in 2008. He continued to work after retirement doing anything to stay busy.

Del had a great love for the outdoors and he was a member of the Elks Lodge where he served 2 years as the exalted ruler, which he preferred to be called "the exhausted rooster". Del's greatest love was being with his family.

He is survived by his wife of 61 years Shirley of Moab, 3 daughters Linda Vega of Albuquerque, New Mexico, Robin Cather, Beaverton, Oregon, Kellie (Dennis) Park of Grand Junction, Colorado; a son Shane (Candice) Cather of St. George, Utah; 1 sister Billie (Barry) Oakley of Fairfield, Montana; 10 grandchildren and 5 great grandchildren He was preceded in death by his parents, a brother Douglas, and a sister Elsie Meshew.

At Del's request cremation has taken place and a Celebration of Life will be held on Monday March 27, 2017 at 11:00 am at the Community Church.

Tributes:

Shirley,
So sorry for your loss,will keep you in my thoughts and prayers.
Love.
- Betty Greager

Printable Page Add Picture Add Tribute/Condolence

PLEASE NOTE: Pictures and Tributes will be reviewed before being posted. We will post them ASAP, we appreciate your patience. PLEASE DON'T RESUBMIT.
Mary Mays
b: 3/5/1939
d: 9/22/2020
Service: Pending


OraLynn Means
b: 7/13/1936
d: 9/21/2020
Service: 09/28/2020, 11:00 am at The LDS Church on 400 North


Guy Thomas
b: 1/10/1950
d: 9/18/2020
Service: Private


Werner Wucherer
b: 1/20/1934
d: 9/10/2020
Service: Private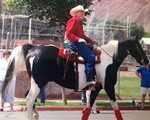 Rodney Dalton
b: 1/18/1934
d: 9/1/2020
Service: 09/08/2020, 10:00 am Grand Valley Cemetery

They Live On
Those we love remain with us
For love itself lives on;
Cherished memories never fade
Because one loved is gone.
Those we love can never be
More than a thought apart;
For as long as there's a memory,
They live on within our heart.