Dixie # Brown

Born: 1/18/1928, Hugoton, Kansas
Death: 4/27/2017, Twain Heart, California
Viewing: 05/12/2017, 5:00 pm, St Pius X Catholic Church
Service: 05/13/2017, 10:00 am, St Pius X Catholic Church
Interment: 05/13/2017, 11:30 am, Sunset Memorial Gardens


Dixie Brown 89 passed away peacefully in the home of her youngest daughter and her family on April 27, 2017.

Dixie was born on January 18, 1928 in Houghton, Kansas to JaHue and Lillie Purcell. She was the youngest child in a family of 4 daughters and 6 sons.Dixie married John Brown on November 7, 1945. They moved to Moab Utah in 1954. They fell in love with the red rocks and the small town life and never left. Dixie's joy in life was taking care of her husband, children, grandchildren and great grandchildren. Dixie had a strong faith in God and was an active member of St Pius X Catholic Church until her health kept her home bound. She still enjoyed her weekly visits from Father Bill and members of the parish. Her strong faith gave her peace when she lost her husband John, and her 2 daughters Gayle and Jeri.

Dixie is preceded in death by her parents, brothers and sisters, her husband John Brown; her daughter Gayle Lynn Dalton and Jeri Margaret Foy.

Dixie is survived by her daughters Leah Kay Foy and Lisa (Tommy) Byrum; her grandchildren Jill Byrum, Dustin (Kristin) Byrum, Sean (Renee) Dalton, Brooke Foy, Jason (Becca) Foy, Jeremy (Meanghan) Foy, Tiffany Foy, Jack R (Kristin) Foy, Corey (Michaelle) Foy, and Shelley (William) Hupp: 21 great grandchildren, 5 great great children and many friends.

A Funeral Mass for Dixie will be held Saturday, May 13 at 10:00 a.m. at the St. Pius X Catholic Church. A viewing will be held Friday, May 12 at 5 p.m. with a Rosary Service at 6 p.m.

There has been a fund set up for Dixie at Go Fund Me. Com, in lieu of flowers.

Printable Page Add Picture Add Tribute/Condolence

PLEASE NOTE: Pictures and Tributes will be reviewed before being posted. We will post them ASAP, we appreciate your patience. PLEASE DON'T RESUBMIT.

Ronald Robertson
b: 8/24/1934
d: 9/27/2020
Service: 10/02/2020, 11:00 am Moab LDS Stake Center on Locust Lane

Mary Mays
b: 3/5/1939
d: 9/22/2020
Service: Pending


OraLynn Means
b: 7/13/1936
d: 9/21/2020
Service: 09/28/2020, 11:00 am at The LDS Church on 400 North


Guy Thomas
b: 1/10/1950
d: 9/18/2020
Service: Private


Werner Wucherer
b: 1/20/1934
d: 9/10/2020
Service: Private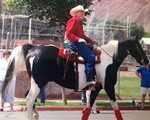 Rodney Dalton
b: 1/18/1934
d: 9/1/2020
Service: 09/08/2020, 10:00 am Grand Valley Cemetery

They Live On
Those we love remain with us
For love itself lives on;
Cherished memories never fade
Because one loved is gone.
Those we love can never be
More than a thought apart;
For as long as there's a memory,
They live on within our heart.