Loretta M Kern
Born: 7/4/1917, Broadview Heights, Ohio
Death: 9/20/2009, Moab, Utah
Service: Private

Loretta M Kern, 92, passed away Sunday, September 20, 2009, at Allen Memorial Hospital in Moab, UT.
Loretta was born in Broadview Heights, Ohio, July 4, 1917, to Jacob. & Rose (Itschner) Trapp. She grew up and graduated from school in Broadview Heights. She later met and married Albert Kern on September 6, 1939 in Broadview Heights, Ohio. Albert's career moved them to the east coast until his retirement in 1977 when they moved to Moab, Utah.
Loretta loved knitting, making afghans, and being with her family and friends.
She is survived by husband of 70 years, Albert of Moab; her son Harold A. (Patricia) Kern of Pleasant Valley, New York.
She was preceded in death by her parents and 3 brothers.
At Loretta's request cremation has taken place and private family service will take place at a later date.
In lieu of flowers please make a donation to your favorite charity or church organization.
Printable Page Add Picture Add Tribute/Condolence
PLEASE NOTE: Pictures and Tributes will be reviewed before being posted. We will post them ASAP, we appreciate your patience. PLEASE DON'T RESUBMIT.

Ronald Robertson
b: 8/24/1934
d: 9/27/2020
Service: 10/02/2020, 11:00 am Moab LDS Stake Center on Locust Lane

Mary Mays
b: 3/5/1939
d: 9/22/2020
Service: Pending


OraLynn Means
b: 7/13/1936
d: 9/21/2020
Service: 09/28/2020, 11:00 am at The LDS Church on 400 North


Guy Thomas
b: 1/10/1950
d: 9/18/2020
Service: Private


Werner Wucherer
b: 1/20/1934
d: 9/10/2020
Service: Private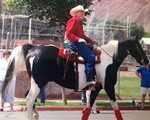 Rodney Dalton
b: 1/18/1934
d: 9/1/2020
Service: 09/08/2020, 10:00 am Grand Valley Cemetery

They Live On
Those we love remain with us
For love itself lives on;
Cherished memories never fade
Because one loved is gone.
Those we love can never be
More than a thought apart;
For as long as there's a memory,
They live on within our heart.