Claudine # Seever

Born: 7/22/1922, Jasper, Georgia
Death: 7/16/2017, Moab, Utah
Service: Private


Claudine Seever, 94, passed away July 16, 2017 at her home, in Moab. Claudine was born in Jasper, Georgia, to Floyd and Irene Hobgood Mullinaux. The family soon moved to Corbin, Kentucky. In June 1944 Claudine graduated from the University of Kentucky and married Frank Seever who was in an army special training program at the university.

Shortly after the end of WWII, Frank and Claudine located to Boulder, Colorado area, where Frank graduated from the University of Colorado. Claudine was employed by the University of Colorado for 27 years, 25 of whick she was the managing Editor of the Colorado Quarterly. After that , she assisted Frank in the work he loved, buying and remodeling old houses, then selling or renting them. In the mid 1990's they moved to the Grand Junction area and spent more and more time in the Moab area, moving there in 2005.

Claudine was preceded in death by her husband Frank in 2008 and a sister Floye A. Perkins. At Claudine's request cremation has taken place and there will be no services. In lieu of flowers please make a donation to the Grand County Hospice in her name.

A special thanks to the staff and individuals who have helped Claudine through the years and in her final days, Grand County hospice (Nina, Jessica, Marilyn, and Terry), Rocky Mountain Home Health (Barbara), Mike Price, Annie Sly, Marilyn Coffee, Dave and Tere Powers.

Printable Page Add Picture Add Tribute/Condolence

PLEASE NOTE: Pictures and Tributes will be reviewed before being posted. We will post them ASAP, we appreciate your patience. PLEASE DON'T RESUBMIT.

Ronald Robertson
b: 8/24/1934
d: 9/27/2020
Service: 10/02/2020, 11:00 am Moab LDS Stake Center on Locust Lane

Mary Mays
b: 3/5/1939
d: 9/22/2020
Service: Pending


OraLynn Means
b: 7/13/1936
d: 9/21/2020
Service: 09/28/2020, 11:00 am at The LDS Church on 400 North


Guy Thomas
b: 1/10/1950
d: 9/18/2020
Service: Private


Werner Wucherer
b: 1/20/1934
d: 9/10/2020
Service: Private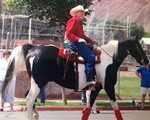 Rodney Dalton
b: 1/18/1934
d: 9/1/2020
Service: 09/08/2020, 10:00 am Grand Valley Cemetery

They Live On
Those we love remain with us
For love itself lives on;
Cherished memories never fade
Because one loved is gone.
Those we love can never be
More than a thought apart;
For as long as there's a memory,
They live on within our heart.