David Samos Silverman

Born: 2/12/1953, Queens, New York
Death: 8/7/2017, Castle Valley, Utah
Service: 08/18/2017, 5:30 pm, CAstle Valley Fire Station


David died at home surrounded by loving family after a brief but intensive battle with chronic illness . He was born and raised in Queens, NY as the only child of prolific artist Elliot Silverman and mother Nan Silverman. As a young man, he moved to the Virgin Islands, where he made many lifelong friends and built a successful career as the CEO of Prime Foods, one of the largest food distributors in the Caribbean. He worked hard and played hard, enjoying skiing, biking, the Rolling Stones, the 3 stooges, hiking and an occasional fine red wine. He also ran 2 marathons. He was known for his dry wit, his generosity, his support of the vulnerable and for his ability to make good memories from even the most difficult experiences. In 1998, David declared he had discovered his paradise as he moved to Castle Valley upon early retirement, where he enjoyed building a home and growing a verdant life for he and his children, Gabrielle and Dale.

He is survived by his daughter, Gabrielle Sarah Belinsky Silverman, grandson David Demar Bohne and Gabrielle's partner, Jesse Bohne; son Dale Edward Silverman , grand daughters Darah, Hayley and Ellie. He also leaves an extended family of friends and loved ones who will deeply miss his unique sense of humor and his kind heart.

A memorial service is planned for August 18, at 5:30pm at the Castle Valley Fire station. There will be a little ceremony and potluck. In lieu of flowers, donations can be made to the Castle Valley Volunteer Fire Depart

Printable Page Add Picture Add Tribute/Condolence

PLEASE NOTE: Pictures and Tributes will be reviewed before being posted. We will post them ASAP, we appreciate your patience. PLEASE DON'T RESUBMIT.

Ronald Robertson
b: 8/24/1934
d: 9/27/2020
Service: 10/02/2020, 11:00 am Moab LDS Stake Center on Locust Lane

Mary Mays
b: 3/5/1939
d: 9/22/2020
Service: Pending


OraLynn Means
b: 7/13/1936
d: 9/21/2020
Service: 09/28/2020, 11:00 am at The LDS Church on 400 North


Guy Thomas
b: 1/10/1950
d: 9/18/2020
Service: Private


Werner Wucherer
b: 1/20/1934
d: 9/10/2020
Service: Private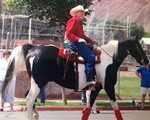 Rodney Dalton
b: 1/18/1934
d: 9/1/2020
Service: 09/08/2020, 10:00 am Grand Valley Cemetery

They Live On
Those we love remain with us
For love itself lives on;
Cherished memories never fade
Because one loved is gone.
Those we love can never be
More than a thought apart;
For as long as there's a memory,
They live on within our heart.