Chris R Brannan

Born: 12/2/1947, Phoenix, Arizona
Death: 8/9/2017, La Sal, Utah
Service: 08/12/2017, 1:00 pm, Family Home in La Sal


Chris "Butch" Brannan, 69, passed away peacefully in his sleep on August 8, 2017 at his home surrounded by his loving family.

Butch was born December 2, 1947 in Phoenix, Arizona to Ralph and Lois Winninger Brannan. In 1968 he was drafted and went to Vietnam serving 8 years in the US Army. In 1986 he came to Moab 4 wheeling and fell in love with the area and became a n associate member. In 1993 he moved to Moab with his wife and they became Red Rock 4 wheelers members and trail leaders. He loved helping people and being a trail guide. He was loved by all and helped anyone when needed.

He leaves behind his Wife Eve, daughters Lori and Kim, son Chris JR., grandchildren John, Shelby, Arian, great-granddaughter Aria, cousins Patty and Karen.

At Butch's request cremation has taken place and a Military Service will be held Saturday August 12, 2017 at 1:00 pm at the family home, 149 East Markle Road La Sal, Utah 84530.

In Lieu of flowers the family request to make donations to the Wounded Warriors.

Tributes:

The Butch I remember was a real relaxed, outdoor guy. He was always in the background helping. I only remember once when on a trail with him that he took the lead. He took a few of us to show us dinosaur tracks in an area near his house. The "normal" 4x4 trips I did with Butch usually featured a discussion of who would go where in the trail lineup-there might be a back and forth about who would go last, but it seemed Butch always won.

I'm saddened he has left us and I know this hurts worse for his family, but I will always think of him driving that beat up Toyota pickup with its 4 cylinder engine, huge tires, and gearing that could embarrass any of us in the desert when he chose to! He was a great guy and a good friend. I hope to meet up with him again when my time here is up.
- Bill Hughes

Printable Page Add Picture Add Tribute/Condolence

PLEASE NOTE: Pictures and Tributes will be reviewed before being posted. We will post them ASAP, we appreciate your patience. PLEASE DON'T RESUBMIT.

Ronald Robertson
b: 8/24/1934
d: 9/27/2020
Service: 10/02/2020, 11:00 am Moab LDS Stake Center on Locust Lane

Mary Mays
b: 3/5/1939
d: 9/22/2020
Service: Pending


OraLynn Means
b: 7/13/1936
d: 9/21/2020
Service: 09/28/2020, 11:00 am at The LDS Church on 400 North


Guy Thomas
b: 1/10/1950
d: 9/18/2020
Service: Private


Werner Wucherer
b: 1/20/1934
d: 9/10/2020
Service: Private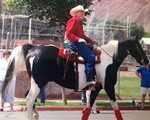 Rodney Dalton
b: 1/18/1934
d: 9/1/2020
Service: 09/08/2020, 10:00 am Grand Valley Cemetery

They Live On
Those we love remain with us
For love itself lives on;
Cherished memories never fade
Because one loved is gone.
Those we love can never be
More than a thought apart;
For as long as there's a memory,
They live on within our heart.