John Stewart Ogden

Born: 9/22/1941, San Diego, California
Death: 9/1/2017, Moab, Utah
Service: 09/09/2017, 11:00 am, River of Life Christian Fellowship, 2651 Arroyo Rd


John Stewart Ogden passed away peacefully at home on September 1st, 2017, surrounded by family and friends. He was born in San Diego, CA on September 22, 1941, to Robert "Pappy" and Rose Marie "Mas" Ogden, and was raised on an avocado and lemon ranch in Fallbrook, CA.

John was a real estate developer from a long line of community builders and real estate fore-fathers, that immigrated from England to New York in 1640. John's 5th great grandfather founded the first large-scale commercial real estate investment trust and is recognized historically as one of the financiers of the American Revolution. Starting as a carpenter, John learned the business from the ground up, building homes, subdivisions, and commercial projects, which brought him to Moab in 1999. John always had a vision for the future.

A few years after arriving in Moab, John met the love of his life, Susie Taylor, and spent the last 16 years making memories with her. John enjoyed his grandchildren and made friends with most folks he met. Locals may remember John's warm smile from behind the bar he built at Susie's Branding Iron, a local restaurant that he and Susie rebuilt in 2012 that quickly became a thriving local establishment.

John had many business ventures during his life, but showing horses was his favorite. John and Susie showed their horses for years, winning many awards including four Quarter Horse Halter World Champions.

John is survived by Susie Taylor and her family, his sons John Brian Ogden and Larry Stewart Ogden, his grandchildren, Stephen and Sean Ogden, Zachary, McKenzie and Alaska Ogden, Finnegan Nash Ogden Fagering, Raine Wu, his sister Sue Davis, and friends and family near and far.

At John's request cremation has taken place and services will be held at 11 a.m., Saturday, September 9th at the River of Life Christian Fellowship, 2651 Arroyo Rd., Moab, Utah.

Printable Page Add Picture Add Tribute/Condolence

PLEASE NOTE: Pictures and Tributes will be reviewed before being posted. We will post them ASAP, we appreciate your patience. PLEASE DON'T RESUBMIT.

Ronald Robertson
b: 8/24/1934
d: 9/27/2020
Service: 10/02/2020, 11:00 am Moab LDS Stake Center on Locust Lane

Mary Mays
b: 3/5/1939
d: 9/22/2020
Service: Pending


OraLynn Means
b: 7/13/1936
d: 9/21/2020
Service: 09/28/2020, 11:00 am at The LDS Church on 400 North


Guy Thomas
b: 1/10/1950
d: 9/18/2020
Service: Private


Werner Wucherer
b: 1/20/1934
d: 9/10/2020
Service: Private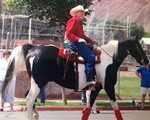 Rodney Dalton
b: 1/18/1934
d: 9/1/2020
Service: 09/08/2020, 10:00 am Grand Valley Cemetery

They Live On
Those we love remain with us
For love itself lives on;
Cherished memories never fade
Because one loved is gone.
Those we love can never be
More than a thought apart;
For as long as there's a memory,
They live on within our heart.