Kenneth Paul Bertwell

Born: 4/26/1936, Cortez, Colorado
Death: 9/10/2017, Moab, Utah
Service: 09/21/2017, 1:00 pm, Spanish Valley Mortuary
Interment: 09/21/2017, 2:30 pm, Sunset Memorial Gardens Cemetery


Ken Bertwell, 81, passed away peacefully on September 10, 2017 surrounded by his loving family. He was our beloved husband, father, grandpa, brother, and uncle. He was born to Jim & Opal Bertwell, in Cortez, Colorado on April 25, 1936, where he was raised and graduated high school. He spent 1 year of college in Boulder Colorado. Then he joined the U.S. Navy. He served on 2 Submarine, the USS Tigerone and the USS Corporral he served from 1955 to 1959. Ken's Crew was the last to serve on the USS Tigerone, his rank was EM3 (SS) (E-4). He was proud to have served his country.

Ken built Moab Lanes where it was set to open in June 1960. He was a very successful businessman with great help and dedication from Natalie Hettman. He was in business for almost 40 years, where he developed great friends and clients. He became a PBA member in 1980 and in his lifetime he bowled 3- 300 games. He served 2 terms of being president of the Utah State bowling Association .,and was a lifetime member of the C.U.T.B.A. Association. Ken made many friends over his 40 years in the bowling business. He met his wife of 55 years at the bowling alley in 1960, later married in June 1961. They had 55 wonderful years together. He taught his kids good work ethics, morals, and values. He was a very caring, and devoted husband and father.

Ken was always helping someone in need, he would help them out of a bind. When traveling alone he would always give hitch hikers a ride, he would have givin his last dollar to anyone who needed it. He was a kind soul with a big heart and rough around the edges.

After retiring from Moab Lanes he went to work at mega Blue for about 2 years, then he did a lot of volunteer work for the humane society of Moab, he volunteered for about 10 years with me by his side in my free time. He was a very generous man when it came to his love for animals.

In 2007 Ken was into the Utah State Bowlers Hall Of Fame. Ken enjoyed hiking with his dogs, he also enjoyed target practice, and flying model planes, last but not least bowling and his time with the family.

Ken is survived by his wife Shirley, children Bobby, Kerrie, Paula, 1 grandson Brandon. A sister Janet (Jeff) Jones and many nieces and nephews.

He was preceded in death by his parents Jim and Opal Bertwell, sister Yvonne Kenny, niece Edena Akin and many aunts and uncles.

He will be greatly missed by all who knew and loved him. Thank you Dad. We are all so very proud of you as a husband, father and as a Navy veteran for your service to this country. He was special to a lot of people, especially his family.

In Lieu Of flowers Please Make Donations in Ken Bertwell name to Best Friends Animal Society 5001 Angel Canyon Rd. Kanab, UT. 84741, or to Moab Animal Shelter 965 Sand Flats Rd. Moab, UT. 84532

At Ken's request cremation has taken place and a Services will be held Thursday Sept. 21, 2017 at 1:00 p.m. at Spanish Valley Mortuary, with full Military honors at Sunset Memorial Gardens Moab, UT.

Printable Page Add Picture Add Tribute/Condolence

PLEASE NOTE: Pictures and Tributes will be reviewed before being posted. We will post them ASAP, we appreciate your patience. PLEASE DON'T RESUBMIT.

Ronald Robertson
b: 8/24/1934
d: 9/27/2020
Service: 10/02/2020, 11:00 am Moab LDS Stake Center on Locust Lane

Mary Mays
b: 3/5/1939
d: 9/22/2020
Service: Pending


OraLynn Means
b: 7/13/1936
d: 9/21/2020
Service: 09/28/2020, 11:00 am at The LDS Church on 400 North


Guy Thomas
b: 1/10/1950
d: 9/18/2020
Service: Private


Werner Wucherer
b: 1/20/1934
d: 9/10/2020
Service: Private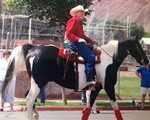 Rodney Dalton
b: 1/18/1934
d: 9/1/2020
Service: 09/08/2020, 10:00 am Grand Valley Cemetery

They Live On
Those we love remain with us
For love itself lives on;
Cherished memories never fade
Because one loved is gone.
Those we love can never be
More than a thought apart;
For as long as there's a memory,
They live on within our heart.