Michael Anthone Bastian

Born: 6/12/1957, Monticello, Utah
Death: 9/13/2017, Grand Junction, Colorado
Viewing: 09/18/2017, 6:00 to 8:00 pm, Spanish Valley Mortuary
Service: 09/19/2017, 11:00 am, LDS 400 North Chapel
Interment: 09/19/2017, 12:30 pm, Sunset Memorial Gardens Cemetery


Michael Anthon Bastian, 60, of Moab, Utah passed away on Wednesday, September 13, 2017 at St Maryís Hospital in Grand Junction, Colorado. He was surrounded by his family and friends who loved him dearly. He was born June 12, 1957 in Monticello, Utah, the son of Newell A. Bastian and Vonda Larsen Bastian. He graduated from Grand County High in 1975 and made Moab his home most of his adult life. He married Karen Bransetter and later divorced. Michael worked various jobs including, running a service station at Center and Main, hauling uranium ore for McFarland & Hullinger, prospecting with his Uncle Jake Bastian and working on a drill rig. It was on that job that an accident handling drill pipe occurred and crushed vertebras in his back. After that accident he became a stay at home dad and raised his four boys. Michael would do anything for his boys, he raised them by himself, cooking, cleaning, shopping and nursing them back to health when they were ill.

He loved the La Sal Mountains and spent as many summers as possible up there with his boys camping and fishing. He had a great love for horses, especially Quarter Horses. He and his dad, Newell, raised many beautiful colts of which Newell and Michael found they wanted to keep them all and so they did and the herd grew. He also loved motorcycles, from dirt bikes to Harleys and in his most recent years he and his son Zach both bought Harley's so that they could ride together. His first real love was his children and then horses and motorcycles. Michael had a heart as big as they get. He would drop everything to help someone in need. He felt a real need to look after his sisters and that he did. He was always stopping by or calling on the phone just to tell them he loved them. He never met a stranger and would strike up a conversation with anyone he came in contact with. He recently spent eleven days with his sister, Terry, and her husband, Mark, in Ohio. He had a wonderful time with them, attending a Cleveland Indians baseball game, camping, boating on Lake Erie, attending Oktoberfest and just enjoying time with this family and friends. He also loved his 11 grandkids (Tyler, Vinnie, Emma, Ember, Alligha, Iziah, Kahsiah, Jaeda, Zoe, Gracen & Gabriel Jr.) and spent as much time as possible with them.

Michael is survived by four sons: Tyson Rockwell, Houston (Rachelle) Bastian, Zach and Gabriel Bastian- all residing in Moab, Utah. Four sisters: Daphen Ranch of Moab, Sharon Hunter (Dennis) of Harrisville, Utah, Sandy Bastian of Moab and Terry Cipriani (Mark Sr) of Rocky River Ohio. He lost a daughter, Jeanna, to crib death in 1990. This was a devastating blow to the family being the only girl with four brothers.

Michael is also preceded in death by his father, Newell, and mother, Vonda, nephew, Michael Cipriani, Grandparents and many Aunts and Uncles.

Michaelís infectious laugh and contagious smile will be dearly missed by all who knew him.

Funeral services were held Tuesday, September 19th at The Church of Jesus Christ of Latter-day Saints on 4th North in Moab, Utah and interment at Sunset Memorial Gardens Cemetery in Grand County, Utah.

Tributes:

Dear Bastian Family - we just want you to know we are thinking of all of you at this sad time in your lives.
- Inalyn & Bill MeadorDear Sandy and Bastian Family,

My sincere sympathy on the passing of Michael. May all of you find comfort in knowing a grand reunion is going on in heaven.
- Marilyn Costanza DominyHi Sandy and other members of the Bastian family,
I saw the Notice in the TI and want to extend my condolences. Mike was not happy with Portal Vista being here, but he and I had many good conversations over the pasture fence and I could see his point of view. I know you will miss him.

Sincerely,
- Maggie Corson

Printable Page Add Picture Add Tribute/Condolence

PLEASE NOTE: Pictures and Tributes will be reviewed before being posted. We will post them ASAP, we appreciate your patience. PLEASE DON'T RESUBMIT.

Ronald Robertson
b: 8/24/1934
d: 9/27/2020
Service: 10/02/2020, 11:00 am Moab LDS Stake Center on Locust Lane

Mary Mays
b: 3/5/1939
d: 9/22/2020
Service: Pending


OraLynn Means
b: 7/13/1936
d: 9/21/2020
Service: 09/28/2020, 11:00 am at The LDS Church on 400 North


Guy Thomas
b: 1/10/1950
d: 9/18/2020
Service: Private


Werner Wucherer
b: 1/20/1934
d: 9/10/2020
Service: Private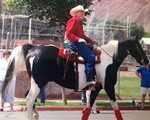 Rodney Dalton
b: 1/18/1934
d: 9/1/2020
Service: 09/08/2020, 10:00 am Grand Valley Cemetery

They Live On
Those we love remain with us
For love itself lives on;
Cherished memories never fade
Because one loved is gone.
Those we love can never be
More than a thought apart;
For as long as there's a memory,
They live on within our heart.