Robert N Yahnel

Born: 6/4/1935, Helmetta, New Jersey
Death: 10/16/2017, Moab, Utah
Service: 10/25/2017, 3:00 pm, Sunst Memorial Gardens Cemetery


Robert "Bob" Yahnel. Born June 4 1935 in Helmetta, New Jersey to Auto and Hazel Yahnel. Died October 16 2017 surrounded by his family. Bob Yahnel is a Master Mason of 50 plus years with the Suisun Lodge No. 55 of the Free Masons of California. Bob was married to Dene Stewart Yahnel since oct 15 2004. He served in the U.S. Navy during the Korean war. He was a fly boy and a Aviation Structural Mechanic 3rd Class USNR. He earned his Masters and Doctorate in California and spend most of his career as a Professor of Math and Physic and retired as Dean and then College Administrator at the Solano Community College of California. Bob loved spending his time outdoor working on jobs around the house and yard, but most especially he enjoyed spending time with his grandkids and his wife and kids.

Bob leaves behind his step children whom he called "His own". His daughter, Keera Gritts and her children Tiger and Aescli Evans. His son Mingo Gritts with his wife Brandy and their children Veda, Zeke and Willow Gritts and Sant King. His son Eli Gritts and Tabby Gritts along with their kids Kyha, Kelsey, and Josh Rain Gritts. He also leaves behind his sweetheart and love of his life Dene Stewart Yahnel whom he got to celebrate their 13 yr. wedding anniversary just the day before he died. He was a wonderful man, very wise and kind with a big heart.

At Bobís request cremation has taken place and a Military graveside service will be held October 25, 2017 at 3:00 pm at the Sunset Memorial Gardens Cemetery.

Printable Page Add Picture Add Tribute/Condolence

PLEASE NOTE: Pictures and Tributes will be reviewed before being posted. We will post them ASAP, we appreciate your patience. PLEASE DON'T RESUBMIT.

Ronald Robertson
b: 8/24/1934
d: 9/27/2020
Service: 10/02/2020, 11:00 am Moab LDS Stake Center on Locust Lane

Mary Mays
b: 3/5/1939
d: 9/22/2020
Service: Pending


OraLynn Means
b: 7/13/1936
d: 9/21/2020
Service: 09/28/2020, 11:00 am at The LDS Church on 400 North


Guy Thomas
b: 1/10/1950
d: 9/18/2020
Service: Private


Werner Wucherer
b: 1/20/1934
d: 9/10/2020
Service: Private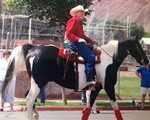 Rodney Dalton
b: 1/18/1934
d: 9/1/2020
Service: 09/08/2020, 10:00 am Grand Valley Cemetery

They Live On
Those we love remain with us
For love itself lives on;
Cherished memories never fade
Because one loved is gone.
Those we love can never be
More than a thought apart;
For as long as there's a memory,
They live on within our heart.