Montez Sorenson Steele

Born: 8/4/1934, Lyman, Utah
Death: 10/20/2017, Moab, Utah
Viewing: 10/27/2017, 6:00 to 8:00 pm, Spanish Valley Mortuary
Service: 10/28/2017, 11:00 am, Moab LDS Stake Center
Interment: 10/28/2017, 12:30 pm, Sunset Memorial Gardens Cemetery


On October 20th 2017 the lights went out in Moab when we lost our beloved wife, mother, grandmother, GG, sister, aunt, and friend, Montez Sorenson Steele. Montez passed away at her home surrounded by her loving family.

Montez was born August 4th 1934 in Lyman Utah, the 4th of 7 children to Voyle E and Lillie M Sorenson. She had one brother and 5 sisters. Oh how she loved her family. She married the love of her life and soul mate, Rodney (Ron) Steele July 17th 1953 in Loa Utah, they recently celebrated their 64th anniversary. Montez was known for her kindness and compassionate service, often bringing meals to many of her friends and neighbors. She was a peacekeeper, cosmetologist, artists and quilter. She loved to dance, fish, and travel; she was always up for a new adventure. Montez was a sports fan, and loved to watch her kids and grandkids excel in all of their achievements.

She kept and beautiful home, yard and garden. She was especially known for her rolls and cinnamon rolls. Montez was a friend to everyone she met. Momís family was her life and greatest accomplishment. She loved to nurture her grand and great grand children; she could never pass any baby with out stopping and interacting with them.

Montez is survived by her loving husband, Ron, her 5 children; Jeanie Robinson (Eric), Mike Steele (Janet), Julie Ing (Wes), Pam Lopez (Rick) Jeff Steele (Michelle), 16 grandchildren and 31 great grand children. She is also survived by her 4 of her beloved sisters. DeOna, RaNae, Joyce and GaeLynn

Her parents, one brother, Merwin and one sister Arda Mae preceded her in death. Oh what a wonderful reunion they must be having.

Funeral Services will be held at the Moab State Center on Locus Lane Saturday October 28th at 11:00am, with a viewing Friday night from 6-8pm at Spanish Valley Mortuary, and a viewing one-hour prior to her service.

The family would like to thank the staff of Moab Regional Hospital, St. Maryís Hospital and Grand County Hospice for their loving care of our sweet mother. We would also like to thank every one that provided food, flowers, and prayers during this most difficult time.

Tributes:

Ron & Family, I just wanted to let you know that was one of the most Beautiful service I have ever been to in my liffe! I literally felt your families love for Montez! I will always keep that in my heart. My thoughts & prayers are with you.
- Ruby RobinsonI am so sorry about this tremendous loss of Tez. She was truly a lovely, giving person. She has a wonderful legacy in her family.
Love to you all,
- Joanne M Anderson (Mayberry)our love and thoughts go out to all of you at this sad time in your lives. Montez was really once special lady. We appreciate our friendship with your special family.
- Bill & Inalyn MeadorWe are heartbroken for you and the whole Moab community, because Montez, Ron and your whole family have always had such an impact on our lives full of love, positivity, community and family. We are very grateful to have been a part of such love and grace.

We will always be here for you
- Jody and Joan JacksonSincere sympathy on the passing of your beloved.
May you all find comfort in knowing a grand reunion is going on in heaven.
- Marilyn Costanza DominyOur thoughts & prayers are going out to your whole family at this difficult time. Hugs
- Tony & CarolynThinking of all of you at this sad time.
- Bill & Inalyn Meador

Printable Page Add Picture Add Tribute/Condolence

PLEASE NOTE: Pictures and Tributes will be reviewed before being posted. We will post them ASAP, we appreciate your patience. PLEASE DON'T RESUBMIT.
Mary Mays
b: 3/5/1939
d: 9/22/2020
Service: Pending


OraLynn Means
b: 7/13/1936
d: 9/21/2020
Service: 09/28/2020, 11:00 am at The LDS Church on 400 North


Guy Thomas
b: 1/10/1950
d: 9/18/2020
Service: Private


Werner Wucherer
b: 1/20/1934
d: 9/10/2020
Service: Private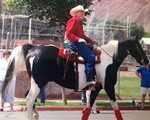 Rodney Dalton
b: 1/18/1934
d: 9/1/2020
Service: 09/08/2020, 10:00 am Grand Valley Cemetery

They Live On
Those we love remain with us
For love itself lives on;
Cherished memories never fade
Because one loved is gone.
Those we love can never be
More than a thought apart;
For as long as there's a memory,
They live on within our heart.