Tenley Webb
Born: 8/18/1962, Provo, Utah
Death: 11/5/2009, Moab, Utah
Service: 11/10/2009, 2:00 pm, Spanish Valley Mortuary

Tenley Webb, 47, passed away on Thursday, November 5, 2009 at her home surrounded by her family.
She was a long-time cancer patient, a brave and gentle warrior battling against a silent enemy. Though it was this disease that had overthrown her body, she did not lose in her battle against cancer, because she never gave up.
Tenley was born on August 18, 1962 in Provo, Utah to Bill and Beverly (Miller) Webb. She started to attend school there and later Graduated from the University of Utah with a Mechanical Engineering Degree. She loved being in the outdoors where she could rock climb, hike and ride horses. She moved to Moab, Utah in the late 1980's where she met her soul mate Gregg Balling.
She is survived by Gregg; a daughter Riley; her parents Bill Webb of Salt Lake City, Beverly (Ron) Nagel of Moab; a sister Charisse Zima of Sandy; and a lot of beloved longtime friends.
At Tenley's request cremation has taken place and a memorial service will be held November 10, 2009 2:00 pm at Spanish Valley Mortuary
Photo Gallery - Click a Picture For Enlarged Slide Show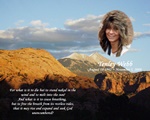 Printable Page Add Picture Add Tribute/Condolence
PLEASE NOTE: Pictures and Tributes will be reviewed before being posted. We will post them ASAP, we appreciate your patience. PLEASE DON'T RESUBMIT.
Jacob Crandall
b: 7/18/1977
d: 8/12/2018
Service: Private
Dorothy Carpenter
b: 3/9/1921
d: 8/7/2018
Service: 08/17/2018, 10:00 am
Community Church
Shirley Bertwell
b: 5/26/1936
d: 8/6/2018
Service: 08/24/2018, 1:00 pm
Spanish Valley Mortuary
Nolan Morse
b: 12/6/1923
d: 7/29/2018
Service: 08/03/2018, 10:00 am
Grand Valley Cemetery
Nancy Ball
b: 6/16/1947
d: 7/29/2018
Service: Pending
Laura Senter
b: 11/8/1936
d: 7/26/2018
Service: 08/29/2018, 11:00 am
Community Church
Samuel Swindle
b: 2/21/1948
d: 4/3/2018
Service: 08/25/2018, 2:00 pm
Palmer Park Colorado Springs, CO
They Live On
Those we love remain with us
For love itself lives on;
Cherished memories never fade
Because one loved is gone.
Those we love can never be
More than a thought apart;
For as long as there's a memory,
They live on within our heart.