Bruce # Negley

Born: 8/2/1934, Salt Lake City, Utah
Death: 3/19/2018, Moab, Utah
Service: 03/23/2018, 1:00 pm, Sunset Memorial Gardens Cemetery
Interment: 03/23/2018, 1:30 pm, Sunset Memorial Gardens Cemetery


obit to be added at a later date.

Tributes:

My deepest condolence to the family for your loss. Mr. Negley was a great teacher, he inspired me and helped to make me who I became. I truly loved and admired him. Because of him I still play the drums to this day and use some of his teaching styles to coach sports, music, employees or just say they do not make people like they used too. I grew up with his sons too and have such great memories I think of often. What a great family and I am so thankful to have been a part of it.
- Donn DeVoreI first met Bruce as a 5th grader in beginning band in Delta, Colorado. He always told me to raise up my trombone by saying, "Floors don't have ears, walls have ears." I loved band! As an adult I taught with him at Grand County Middle School for many years, and again it was a great time to be around him. Bruce was an inspiring teacher, colleague, and friend. My sympathies to Pat and the family.
- Carol StephensonBruce was one of the best teachers I ever had in Moab! If I ever needed to talk to someone I could go to him and he would just listen.
He was a wonderful man and I will miss him dearly.
- MelissaPlease accept my sincere sympathy for the loss of your husband & father. Bruce taught both of my children, Ron & Lisa Dickerson, at Grand County High and was much admired by them and by me. Bruce was a great teacher and a very nice man. We need more like him in this world. Please know that others share your sadness.
- Diane Rynio

Printable Page Add Picture Add Tribute/Condolence

PLEASE NOTE: Pictures and Tributes will be reviewed before being posted. We will post them ASAP, we appreciate your patience. PLEASE DON'T RESUBMIT.

Ronald Robertson
b: 8/24/1934
d: 9/27/2020
Service: 10/02/2020, 11:00 am Moab LDS Stake Center on Locust Lane

Mary Mays
b: 3/5/1939
d: 9/22/2020
Service: Pending


OraLynn Means
b: 7/13/1936
d: 9/21/2020
Service: 09/28/2020, 11:00 am at The LDS Church on 400 North


Guy Thomas
b: 1/10/1950
d: 9/18/2020
Service: Private


Werner Wucherer
b: 1/20/1934
d: 9/10/2020
Service: Private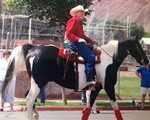 Rodney Dalton
b: 1/18/1934
d: 9/1/2020
Service: 09/08/2020, 10:00 am Grand Valley Cemetery

They Live On
Those we love remain with us
For love itself lives on;
Cherished memories never fade
Because one loved is gone.
Those we love can never be
More than a thought apart;
For as long as there's a memory,
They live on within our heart.