Norman Edwin Mayor
Born: 6/27/1936, Joppa, Maryland
Death: 12/21/2009, Moab, Utah
Service: Pending

Moab, Utah Ė Norman Edwin Mayor passed away on Monday December 21, 2009.
Norm was born in Joppa, Maryland on June 27, 1936 to John J. and Hallie M. Hardin Mayor. After high school, Norm served in the Army as a draftsman. Norm worked remodeling and building homes until his retirement. He had a great love for photography and moved to Utah settling in Moab where he made his home at Rockridge Senior Apartments for the last 3 years. He moved back to Maryland in June of this year and finished his Associates Degree and was in the process of moving back to Utah.
Norm is survived a son Shane (and daughter in-law, Anna) Mayor of Chico, CA; a daughter Kelly Mayor of Forest Hill, MD, and his best friend, Novella Maia, of Moab, Utah.
At Normís request, cremation has taken place and a memorial service will be held at a later date.
Printable Page Add Picture Add Tribute/Condolence
PLEASE NOTE: Pictures and Tributes will be reviewed before being posted. We will post them ASAP, we appreciate your patience. PLEASE DON'T RESUBMIT.
Mary Mays
b: 3/5/1939
d: 9/22/2020
Service: Pending


OraLynn Means
b: 7/13/1936
d: 9/21/2020
Service: 09/28/2020, 11:00 am at The LDS Church on 400 North


Guy Thomas
b: 1/10/1950
d: 9/18/2020
Service: Private


Werner Wucherer
b: 1/20/1934
d: 9/10/2020
Service: Private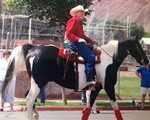 Rodney Dalton
b: 1/18/1934
d: 9/1/2020
Service: 09/08/2020, 10:00 am Grand Valley Cemetery

They Live On
Those we love remain with us
For love itself lives on;
Cherished memories never fade
Because one loved is gone.
Those we love can never be
More than a thought apart;
For as long as there's a memory,
They live on within our heart.