Jeffrey Lynn Meadows
Born: 7/8/1949, Huntington, WV
Death: 4/17/2007, Price, UT
Service: 04/23/2007/11:00am, Moab Baptist Church
Interment: Pete Meadows Family Cemetery, Huntington, WV

Jeffrey Lynn Meadows, a long time resident of Moab, died on April 17, 2007 in Parkdale Nursing Home in Price. Jeff was born on July 8, 1949 in Huntington, W. Va. to Olin Haskell Meadows and Juliett Eloise Crawford Meadows. Jeff was raised with one brother, Larry Meadows, and two sisters, Rosalie and Jennifer, in the West Virginia (donít call it Virginia, itís West Virginia) hills around Huntington. He developed a life-long love of sports, but especially baseball from pickup to sandlot little league. This love of baseball continued into adulthood. Jeff is known to have organized the best baseball tournaments in Moab which became large multi-state tournaments with huge turnouts. He graduated from Huntington East High School in 1967. From there he went to work on a student program for the FBI in Washington, D.C. It was here where he met his future wife, Judy Lowther, who was also in the program working for the FBI. They met when Judy dropped a water balloon on his head from her balcony to his. Judy and Jeff were married on Sept. 3, 1969 in Moab, in a double wedding with Judyís sister Donna Lowther, who married Tim Dull at Community Baptist Church. Jeff and Judy returned to West Virginia and later a beautiful baby girl, Michelle Lynn, was born. The joy was cut short as Michelle died of SIDS at four months of age. Six months later Karen Lynn was born on March 15, 1971, and at that time Jeff and Judy moved back to Moab. Jeff worked at various places in and around Moab including as manager of Tastee Freez. It was while he was working here that their son John Haskel was born on August 1, 1975. He later went to work for Rio Algom until it closed down. Jeff then went to work for Maverick Country Stores as bakery manager and later as store manager until December 2001 when he had to take early medical retirement due to kidney failure. During the next few years Jeff had to live on dialysis and suffered various other health problems, most notably diabetes. Jeff loved and was deeply devoted to his family and when Jeff became your friend you knew that he was a friend for life. Jeff is survived by his wife of 37 years Judy, their daughter Karen Osusky and her husband Tony and their daughter Grace of Moab. Also surviving is their son John, wife Melissa and two daughters Lindsey and Bailey of Tucson, Ariz. He is also survived by two sisters: Rosalie Ash, her husband Carl and their son Mike and his family; and Jennifer Honaker, her husband Mark and their children, Andrew, Celeste and Anne. Jeff is survived by one brother, Larry Meadows, and his children, Christi, Kevin and Craig and their families. Judyís family includes one sister, Donna Dull, and her husband Tim, their children Kevin Dull, his sister, Erin Young, and her husband K.L., and their children Kaylan and Garrett. Judy has one brother Michael Lowther and his wife Sabine. Jeff was preceded in death by his daughter Michelle Lynn and his mother and father, Eloise and Hack Meadows, also his mother and father in-law Irene and John Lowther. Jeff is going to be missed by all who loved him. A memorial service was held at the Moab Baptist Church by Pastor Cole Howe and Spanish Valley Mortuary.
Photo Gallery - Click a Picture For Enlarged Slide Show


Printable Page Add Picture Add Tribute/Condolence
PLEASE NOTE: Pictures and Tributes will be reviewed before being posted. We will post them ASAP, we appreciate your patience. PLEASE DON'T RESUBMIT.
Mary Mays
b: 3/5/1939
d: 9/22/2020
Service: Pending


OraLynn Means
b: 7/13/1936
d: 9/21/2020
Service: 09/28/2020, 11:00 am at The LDS Church on 400 North


Guy Thomas
b: 1/10/1950
d: 9/18/2020
Service: Private


Werner Wucherer
b: 1/20/1934
d: 9/10/2020
Service: Private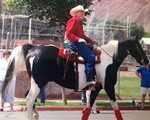 Rodney Dalton
b: 1/18/1934
d: 9/1/2020
Service: 09/08/2020, 10:00 am Grand Valley Cemetery

They Live On
Those we love remain with us
For love itself lives on;
Cherished memories never fade
Because one loved is gone.
Those we love can never be
More than a thought apart;
For as long as there's a memory,
They live on within our heart.