Shirley Lee Miller
Born: 10/9/1925, Delta, Colorado
Death: 7/17/2018, Moab, Utah
Service: Private

Longtime Moab resident, Shirley Lee (Dillard) Miller passed peacefully in her sleep on July 17, 2018. Shirley was born to Jefferson Duckett, Jr., better known as J.D. Dillard, and Maxine Flora (Lowe) Dillard October 9, 1925 in Delta, Colorado. She had two sisters, Betty Mae (Dillard) Bush and Martha Belle (Dillard) Leonard, and one brother, Richard Keith Dillard. The family lived in Colorado during her growing years and moved to Moab, Utah her junior year of high school. Shirley was active in the Thespian Club and starred in many productions.
She met Ralph Miller Jr. in high school. He was the love of her life and lifetime mate. They married October 21, 1944, and raised three daughters together who survive. Candace Ann ("Red") Stewart of Las Vegas, NV, Claudia (Terry) Page of Moab, UT, and Karen Charlene (Chad) Frazer of Salt Lake City, UT. She also leaves behind 10 grandchildren, 15 great-grandchildren, and 6 great-great grandchildren. She was preceded in death by her husband Ralph, her two sisters, two infant daughters, Cherie Lee and Melissa Jo, a son in law, Terry Page, and a great grandchild, Brennan Stewart.
Shirley was well known for her graciousness, kindness and support to all who came into her life. Her home was a welcoming place for the many friends and family who came into the family's life. She left the world a gentler place and will be greatly missed by many generations.
It was Shirley's wish to be cremated with no memorial service. In lieu of flowers the family requests donations be made to Grand County Hospice or the Grand County Food Bank.
Photo Gallery - Click a Picture For Enlarged Slide Show


Printable Page Add Picture Add Tribute/Condolence
PLEASE NOTE: Pictures and Tributes will be reviewed before being posted. We will post them ASAP, we appreciate your patience. PLEASE DON'T RESUBMIT.

Ronald Robertson
b: 8/24/1934
d: 9/27/2020
Service: 10/02/2020, 11:00 am Moab LDS Stake Center on Locust Lane

Mary Mays
b: 3/5/1939
d: 9/22/2020
Service: Pending


OraLynn Means
b: 7/13/1936
d: 9/21/2020
Service: 09/28/2020, 11:00 am at The LDS Church on 400 North


Guy Thomas
b: 1/10/1950
d: 9/18/2020
Service: Private


Werner Wucherer
b: 1/20/1934
d: 9/10/2020
Service: Private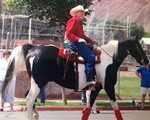 Rodney Dalton
b: 1/18/1934
d: 9/1/2020
Service: 09/08/2020, 10:00 am Grand Valley Cemetery

They Live On
Those we love remain with us
For love itself lives on;
Cherished memories never fade
Because one loved is gone.
Those we love can never be
More than a thought apart;
For as long as there's a memory,
They live on within our heart.