Nolan R Morse

Born: 12/6/1923, Salt Lake City, Utah
Death: 7/29/2018, Moab, Utah
Service: 08/03/2018, 10:00 am, Grand Valley Cemetery
Interment: 08/03/2018, 11:00 am, Grand Valley Cemetery


Born in Salt Lake City, Nolan came to Moab at the age of six to live with his maternal grandparents, Moab pioneers Richard and Martha Westwood. That same year, his grandfather, Richard, a longtime Moab police officer, lost his life in the line of duty. Nolan spent his school years and worked several jobs around Moab until the late 1940s. In 1946, he met his future wife, Yvonne Sorensen in a Moab drugstore (now the T- Shirt Shop). They had their first date at Hole in The Rock, which was then a tavern and dancing establishment.

Growing up in Moab, Nolan developed a strong interest in geology. He studied and earned a degree in geology at the University of Utah and worked in that field for many years.

Nolan and Yvonne raised seven children as they lived in several locations in Utah, Wyoming, Texas and Oklahoma. Their main focus in life was providing and caring for their large family. In the late 1980s Nolan retired and he and Yvonne moved back to Moab, the place they loved and missed the most. They spent many happy years here and were often visited by their children, grandchildren, and great-grandchildren.

Yvonne passed in 2015 and Nolan came to live at the Canyonlands Care Center where he spent his remaining years. He was content there, didn't complain, and praised his caregivers.

The family would like to thank the staff at the care center.

Anyone who wishes to pay their respects is welcome to attend Nolan's funeral at Grand Valley Cemetery scheduled for Friday, Aug. 3 at 10 a.m.

Printable Page Add Picture Add Tribute/Condolence

PLEASE NOTE: Pictures and Tributes will be reviewed before being posted. We will post them ASAP, we appreciate your patience. PLEASE DON'T RESUBMIT.

Ronald Robertson
b: 8/24/1934
d: 9/27/2020
Service: 10/02/2020, 11:00 am Moab LDS Stake Center on Locust Lane

Mary Mays
b: 3/5/1939
d: 9/22/2020
Service: Pending


OraLynn Means
b: 7/13/1936
d: 9/21/2020
Service: 09/28/2020, 11:00 am at The LDS Church on 400 North


Guy Thomas
b: 1/10/1950
d: 9/18/2020
Service: Private


Werner Wucherer
b: 1/20/1934
d: 9/10/2020
Service: Private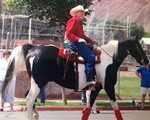 Rodney Dalton
b: 1/18/1934
d: 9/1/2020
Service: 09/08/2020, 10:00 am Grand Valley Cemetery

They Live On
Those we love remain with us
For love itself lives on;
Cherished memories never fade
Because one loved is gone.
Those we love can never be
More than a thought apart;
For as long as there's a memory,
They live on within our heart.