Jeffrey Floyd Marshall

Born: 11/16/1959, Moab, Utah
Death: 8/26/2018, Moab, Utah
Service: 09/22/2018, 11:00 am, Old City Park


Jeffrey Floyd "Marshall" Marshall, son, brother, husband, father, grandfather and great grandfather, Jack of all trades and master of most passed away after a short illness on Sunday, August 26, 2018 in Moab, Utah, with his dog Buddy by his side. He was 58.

Marshall was born in Little Falls, 'MN on November 16, 1959 to Vernon and Barbara Marshall. He found his soulmate in wife Pamela Clark Alsop whom he married in Salt Lake City, Utah on August 5, 1989. They had just celebrated 29 happy years of marriage.

Although Marshall didn't have any children of his own he helped raise Pamela's children. Jeremy learned a lot from his Pops and Aubrey loved her Daddy and talked often about the daddy/daughter dance he took her to when she was 12. Marshall is survived by his son Jeremy Lee (Tara) Marshall of Grand Junction, Colorado and daughter Aubrey Anne (Bobby) Neilson of Marion, Ohio, 8 grandchildren, Gavin, Brennen, Parker and Rory Marshall of Grand Junction, Colorado, Catrale Marshall of Reno, Nevada, Zain, Alexander and Zoe of Marion, Ohio and three great grandchildren, Graysan, Charma and Michael, who was just born and had not had a chance to meet his great grandpa yet. Marshall is also survived by his parents of Ft Ripley, MN, three brothers, Vernon (Bernice) Marshall of Pierz, MN, Randy (Julie) Marshall of Pierz, MN and Wayne (Pat) Marshall of Cody, Wyoming.

Marshall was a master mechanic who could build a car from the ground up. He loved to build Rat Rods and was working on a 1928 Nash at the time of his death. In his younger years Marshall loved to go camping and four wheeling, but, once he got the shop he always wanted, it was hard to get him out of it. Marshall's shop became the place all the guys hung out at. He will be missed greatly by all who knew him and called him friend. Marshall chose to be cremated and have his ashes spread around at all the places he loved to go.

Please help celebrate his life by joining us on Saturday, September 22, 2018 at the Old City Park for a potluck barbeque from 11:00 to 3:00. Bring a dish, pictures and memories to share. The family requests that in lieu of flowers donations be made to the Moab Humane Society.

Tributes:

Pamela and family, My condolences for the loss of your beloved Jeffrey. Though I didn't know him, I offer my deepest sympathies to you.
- Carla WackerYou left too soon Marshall ,we all had a lot more to share with you.
I will miss you a lot.
We'll meet again sometimes.
- Denis WattelezPam and family , I did not know of your loss till I got the Newspaper today , I am so sorry and want to let you and your family know of our sympathy and condolences, for all at this sorrowful time.
- SheraLee & mitchell PatrickSo sorry to hear of Jeff's passing. Our thoughts and prayers are with you and the kids. He will be dearly missed.
- Vern and Bernice Marshall

Printable Page Add Picture Add Tribute/Condolence

PLEASE NOTE: Pictures and Tributes will be reviewed before being posted. We will post them ASAP, we appreciate your patience. PLEASE DON'T RESUBMIT.

Ronald Robertson
b: 8/24/1934
d: 9/27/2020
Service: 10/02/2020, 11:00 am Moab LDS Stake Center on Locust Lane

Mary Mays
b: 3/5/1939
d: 9/22/2020
Service: Pending


OraLynn Means
b: 7/13/1936
d: 9/21/2020
Service: 09/28/2020, 11:00 am at The LDS Church on 400 North


Guy Thomas
b: 1/10/1950
d: 9/18/2020
Service: Private


Werner Wucherer
b: 1/20/1934
d: 9/10/2020
Service: Private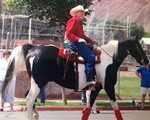 Rodney Dalton
b: 1/18/1934
d: 9/1/2020
Service: 09/08/2020, 10:00 am Grand Valley Cemetery

They Live On
Those we love remain with us
For love itself lives on;
Cherished memories never fade
Because one loved is gone.
Those we love can never be
More than a thought apart;
For as long as there's a memory,
They live on within our heart.