Donald Henry Murray

Born: 8/12/1920, Seattle, Washington
Death: 9/15/2018, Moab, Utah
Service: 10/23/2018, 10:00 am, Utah National Veterans Cemetery


Donald Henry Murray, 97, passed away at his home on September 15, 2018.

Don was born December 8, 1920 in Seattle, Washington to Henry and Gladys Stedman Murray. He graduated from High School and worked as a steel worker until March of 1940 when he enlisted in the Army. He became a pilot in the military during WWII and is a survivor of the Pearl Harbor. Don continued to be a pilot for the US Air Force after leaving the Army Air Corp. After his retirement from the military he was a pilot for a shipping company.

Don married Loraaine Abby and they had 4 children. Loraaine passed way in 1999. In 2000 Don married Marie Melia in California and they lived in the San Diego area. Marie passed in 2008. In 2010 Don moved to Moab to be with family.

Don was a generous, and dedicated and loving father and will be missed.

He is survived by 3 daughters Kitty ( Kenny) Yonaka, Lory (Harvey) Rogers, and Patty (Bud) Meachem; a son Jim Murray; numerous grandchildren, great grandchildren, and great-great grandchildren.

At Donís request cremation has taken place and a Military graveside service will take place at a later date.

A SALUTE out to the great personal at Community Nursingís hospice program for all they did for Don.

Tributes:

On behalf of the Sons and Daughters of Pearl Harbor Survivors, we offer our condolences on the passing of your father, Donald Murray.
Your dad was part of the Greatest Generation and will not be forgotten.
May he rest in peace.
- Kathleen Farley

Printable Page Add Picture Add Tribute/Condolence

PLEASE NOTE: Pictures and Tributes will be reviewed before being posted. We will post them ASAP, we appreciate your patience. PLEASE DON'T RESUBMIT.

Ronald Robertson
b: 8/24/1934
d: 9/27/2020
Service: 10/02/2020, 11:00 am Moab LDS Stake Center on Locust Lane

Mary Mays
b: 3/5/1939
d: 9/22/2020
Service: Pending


OraLynn Means
b: 7/13/1936
d: 9/21/2020
Service: 09/28/2020, 11:00 am at The LDS Church on 400 North


Guy Thomas
b: 1/10/1950
d: 9/18/2020
Service: Private


Werner Wucherer
b: 1/20/1934
d: 9/10/2020
Service: Private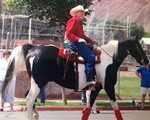 Rodney Dalton
b: 1/18/1934
d: 9/1/2020
Service: 09/08/2020, 10:00 am Grand Valley Cemetery

They Live On
Those we love remain with us
For love itself lives on;
Cherished memories never fade
Because one loved is gone.
Those we love can never be
More than a thought apart;
For as long as there's a memory,
They live on within our heart.