Carrie Ann Neff
Born: 5/18/1955, Dallas, TX
Death: 3/5/2010, Castle Valley, UT
Service: Pending

Castle Valley, Utah – Carrie Ann Neff passed away on Friday March 5, 2010.
Carrie was born in Dallas, Texas on May 18, 1955 to Gordon and Ann Lear Henger, where she grew up and attended school. She later moved to California and took a job with the Los Angeles County Fire Department where she worked her way up to Fire Captain. While working in LA she met and later married Robert Neff February 14, 2009 in Newport Beach, CA. After receiving a medical leave she moved to Castle Valley. Carrie had a great love for the outdoors, animals, and trips to Hawaii. She also collected heart shape rocks.
Carrie is survived her husband; 2 step-daughters Heidi and Katie Neff of Riverside, CA; her parents Gordon and Ann Henger; a brother Gordon Henger of Dallas, Texas; a sister Owen Anderson of Pasadena, CA; mother and father -in-laws John and Pat Neff of Riverside, CA.
At Carrie's request, cremation has taken place and a private service will be held at a later date. In lieu of flowers donations can be made to the Humane Society of Moab Valley.
Printable Page Add Picture Add Tribute/Condolence
PLEASE NOTE: Pictures and Tributes will be reviewed before being posted. We will post them ASAP, we appreciate your patience. PLEASE DON'T RESUBMIT.

Ronald Robertson
b: 8/24/1934
d: 9/27/2020
Service: 10/02/2020, 11:00 am Moab LDS Stake Center on Locust Lane

Mary Mays
b: 3/5/1939
d: 9/22/2020
Service: Pending


OraLynn Means
b: 7/13/1936
d: 9/21/2020
Service: 09/28/2020, 11:00 am at The LDS Church on 400 North


Guy Thomas
b: 1/10/1950
d: 9/18/2020
Service: Private


Werner Wucherer
b: 1/20/1934
d: 9/10/2020
Service: Private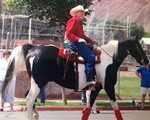 Rodney Dalton
b: 1/18/1934
d: 9/1/2020
Service: 09/08/2020, 10:00 am Grand Valley Cemetery

They Live On
Those we love remain with us
For love itself lives on;
Cherished memories never fade
Because one loved is gone.
Those we love can never be
More than a thought apart;
For as long as there's a memory,
They live on within our heart.