Barbara Jean McCandless
Born: 10/18/1928, Burlington, Iowa
Death: 11/6/2018, Moab, Utah
Viewing: 11/16/2018, 11:00 am, Spanish Valley Mortuary
Service: 11/16/2018, 12:00 pm, Sunset Memorial Gardens Cemetery
Interment: 11/16/2018, 12:30 pm, Sunset Memorial Gardens Cemetery

Barbara Jean McCandless, age 90, died in peace on Tuesday, November 6, 2018 at home with family in Moab after a short battle with cancer. She was born in Burlington, Iowa on October 18, 1928 to LeRoy Koehler and Ellena Shortridge Koehler, the youngest of four children. Barbara worked as a telephone operator until she moved with her young family to Moab in 1954 to manage King Electric. She was also the owner and operator of Sunshine Laundry, located at the former Millers Shopping Center. In her later years, Barbara was a clerk for the U.S. Forest Service and Park Service, the latter which she retired from in 1994. After retiring, Barbara worked part-time for the State Land and Forest Service until the age of 75, at which time she focused her efforts at home to help raise two of her grandsons. Barbara spent her remaining years as the beloved matriarch of the McCandless family. Her exceptional holiday meals (particularly her turkey gravy), unmatched corned beef hash, love for opals, work ethic, and service to those she loved are among some of the favorite traits and memories that family and friends will cherish.
Barbara is survived by: sons Steven (Charme) McCandless and Donald McCandless of Moab; daughter Pamela McCandless of Phoenix, AZ; grandchildren Ryan, Donnie, Luke, and Landon McCandless, Kelly Sheets, Anna Darbonne-Bjorndal, and Jestin Darbonne; as well as 12 great grandchildren.
Barbara was preceded in death by her son David McCandless, great grandbaby Haven Jean McCandless, and three older brothers, Art Sheridan, Ed Koehler, and Harry Koehler.
Family, friends, and others whose lives Barbara touched are invited to Spanish Valley Mortuary for a viewing on Friday, November 16, 2018 at 11:00 am and a subsequent graveside service at Sunset Memorial Gardens Cemetery at 12:00 pm to reminisce, celebrate Barbara's life, and support one another. Please send any flowers to Spanish Valley Mortuary.
Photo Gallery - Click a Picture For Enlarged Slide Show


Printable Page Add Picture Add Tribute/Condolence
PLEASE NOTE: Pictures and Tributes will be reviewed before being posted. We will post them ASAP, we appreciate your patience. PLEASE DON'T RESUBMIT.

Ronald Robertson
b: 8/24/1934
d: 9/27/2020
Service: 10/02/2020, 11:00 am Moab LDS Stake Center on Locust Lane

Mary Mays
b: 3/5/1939
d: 9/22/2020
Service: Pending


OraLynn Means
b: 7/13/1936
d: 9/21/2020
Service: 09/28/2020, 11:00 am at The LDS Church on 400 North


Guy Thomas
b: 1/10/1950
d: 9/18/2020
Service: Private


Werner Wucherer
b: 1/20/1934
d: 9/10/2020
Service: Private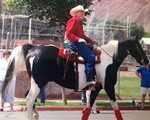 Rodney Dalton
b: 1/18/1934
d: 9/1/2020
Service: 09/08/2020, 10:00 am Grand Valley Cemetery

They Live On
Those we love remain with us
For love itself lives on;
Cherished memories never fade
Because one loved is gone.
Those we love can never be
More than a thought apart;
For as long as there's a memory,
They live on within our heart.