Patricia L Morlen
Born: 8/10/1924, Fairfax, Missouri
Death: 3/5/2010, Moab, Utah
Service: 03/12/2010, 10:30 am, Episcopal Church of St. Francis
Interment: 03/12/2010, 12:00, Sunset Memorial Gardens

Patricia (Pat) Lawrence Morlen, died on March 5, 2010 in Allen Memorial Hospital. She was born on August 10, 1924 in Fairfax, Missouri, to her proud parents, Floyd Andrew and Carmen Lema Lawrence. She had an older sister, Betty Jane Lawrence Hoffmann of Longview, Texas. The family lived in Missouri until she was thirteen when they moved to Ballinger, Texas. She loved school and was a drum majorette for the high school and was an excellent student, with a love for literature, which she cherished throughout her life. After high school, she attended Junior College. In 1943, she met and married a young air force pilot, Lieutenant William (Bill) Lee Morlen. They moved to San Angelo, Texas and in 1945 their daughter, Terry Lynn Morlen, was born. In 1952 they moved to Lubbock, Texas and opened a U.S. Royal Tire Store. Pat was a homemaker, devoted wife and mother and part time college student, who earned an Associate Degree in Literature. In 1959 she went to work for Catholic Charities and became their director, until 1964. She had a great love for horses and rode her fox trotter, Mr. Chips, and her Tennessee Walking Horse, Cream Jesse's Boy (Shannon) to many a win, in the show ring.
In 1970 she divorced, and came out to Moab, to see an old college friend, Mary Williams (Mitch). She absolutely fell in love with this country and all the red rock. She stayed some years and then moved to Red Stone, Colorado and then to Dallas, in 1980, to be near her mother, daughter and granddaughter and was Director of Admissions for Medical City Dallas Hospital. She finally moved back to Moab permanently, about 1989 after her mother had died and her granddaughter had graduated from University. She had many friends wherever she went because of her intelligence, quick wit, sense of humor and her loyalty. She was a well read woman, with strong opinions, who relished a good debate. Mother adored the opera and the the symphony and I grew up listening to every opera she owned and attending some as a child, her favorite being Aida. She loved the La Sal Mountains and had wonderful views from her home. She never wanted to leave "her mountains" as she called them. She played some bridge, hiked the mountains, rode the red rock horseback and was a really good driver, on and off road. Her audacity and keen sense of adventure took her many places round the world, but she always wanted to return to her beloved Moab. She was a devout Episcopalian and served on the altar guild of every parish that held her membership. She will be missed so very much by those who loved her and by the many people she met and so appreciated, at the Allen Memorial Extended Care Center, where she spent the last 2 years of her life.
Patricia is survived by her daughter, Terry Morlen Markle (Jim) of Moab, her granddaughter Noelle Dowd Leitch (Alexander) and great granddaughter Kathleen Patricia Leitch of London, England, 2 nieces, Carmen L. Tucker (Daniel) of Colorado, Angela H. Glover (Glen), Texas, 1 nephew, Anthony Hoffmann (JoLinda), Texas, 5 grand nieces, Berkeley Cattaneo (Russell), Sheridan Smith, Colorado, Lindsay Glover, Whitney Hoffmann, Tyrai Hudson, Texas, 1 grand nephew, Graham Glover of Texas and her long time best friend, Mrs. Juanita McClure of Lubbock, Texas.
We, her family, want to thank the doctors, nurses and all the care givers at Allen Memorial Hospital for their kindness, expertise and gentleness. Most especially, we want to thank all of the staff of the Allen Memorial Extended Care Center for their love, thoughtfulness and for always being there for her and for us. They were all so wonderful with her and we love them very much! We also want to thank three wonderful, caring doctors, without whom she would not have been nearly as comfortable as she was; Dr. Stevem Rouzer, Dr. Robert Klepper and Dr. Phillip Kopell. Without these doctors, I don't know what we would have done. Thank you again and God Bless you!
Services will be held at St. Francis Episcopal Church, 250 S. Kane Creek Blvd, Moab, Friday, March 12, 2010 at 10:30 am with a graveside service to follow. A luncheon will be offered at the LDS Stake Center, 701 Locust Lane beginning at 12 noon. In lieu of flowers a donation to the charity of your choice or the Arthritis Foundation would be wonderful.
Photo Gallery - Click a Picture For Enlarged Slide Show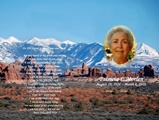 Printable Page Add Picture Add Tribute/Condolence
PLEASE NOTE: Pictures and Tributes will be reviewed before being posted. We will post them ASAP, we appreciate your patience. PLEASE DON'T RESUBMIT.
Mary Mays
b: 3/5/1939
d: 9/22/2020
Service: Pending


OraLynn Means
b: 7/13/1936
d: 9/21/2020
Service: 09/28/2020, 11:00 am at The LDS Church on 400 North


Guy Thomas
b: 1/10/1950
d: 9/18/2020
Service: Private


Werner Wucherer
b: 1/20/1934
d: 9/10/2020
Service: Private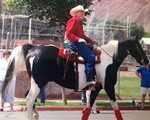 Rodney Dalton
b: 1/18/1934
d: 9/1/2020
Service: 09/08/2020, 10:00 am Grand Valley Cemetery

They Live On
Those we love remain with us
For love itself lives on;
Cherished memories never fade
Because one loved is gone.
Those we love can never be
More than a thought apart;
For as long as there's a memory,
They live on within our heart.